LPL Summer 2021 - Power Ranking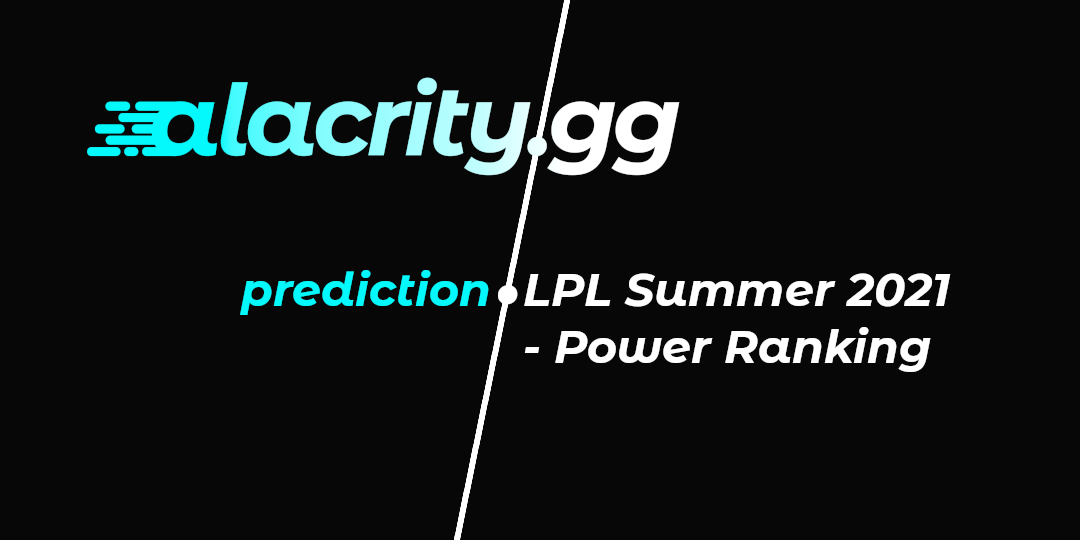 With 136 matches to be played out over the next 9 weeks by 17 teams, China's LPL offers potentially more diverse action than any other league out there. Once again, we've simulated all of these matches and generated our predictions for the season. Contrary to what the Mid-Season Invitational would have you believe, we actually think Top Esports is the top dog here! (Royal Never Give Up is just a touch behind in second place)
|           team name |  wins | losses |   win% |
|---------------------|-------|--------|--------|
|         Top Esports | 12.41 |   3.59 | 77.57% |
| Royal Never Give Up | 12.27 |   3.73 | 76.70% |
|     FunPlus Phoenix | 11.61 |   4.39 | 72.55% |
|       EDward Gaming | 11.45 |   4.55 | 71.53% |
|           JD Gaming | 11.28 |   4.72 | 70.50% |
|           Rare Atom |  8.95 |   7.05 | 55.92% |
|              Suning |  8.88 |   7.12 | 55.50% |
|     Invictus Gaming |  8.71 |   7.29 | 54.46% |
|             Team WE |  8.58 |   7.42 | 53.65% |
|        Victory Five |  6.58 |   9.42 | 41.10% |
|     Bilibili Gaming |  6.33 |   9.67 | 39.54% |
|         LNG Esports |  5.82 |  10.18 | 36.36% |
|          LGD Gaming |  5.82 |  10.18 | 36.36% |
|         Ultra Prime |  5.29 |  10.71 | 33.05% |
|           Oh My God |  4.19 |  11.81 | 26.17% |
|      Rogue Warriors |  4.17 |  11.83 | 26.07% |
|  ThunderTalk Gaming |  3.67 |  12.33 | 22.96% |
There are a few obvious clusters of team strength here:
The top 5 teams (TES, RNG, FPX, EDG, JDG) are all very competitive, and within roughly one expected win of each other.
The next 4 teams (RA, SN, IG, WE) lag the first group by 3-4 expected wins, but are incredibly close to each other.
The next group of 4 (V5, BLG, LNG, LGD) drop off by another 2-3 expected wins, but still all have a shot at taking 10th place.
The final 4 (UP, OMG, RW, TT) are a fair bit weaker - ThunderTalk Gaming looks to be solidly weaker than the rest of the region.
As always, of course, this wouldn't be professional esports without crazy upsets, and we've got plenty of time for the season to unfold.
---
As before, this list does not necessarily comprise our final view of this season's outcome. As these matches get played out, we'll be updating our model and predictions to take advantage of the new information and make sure our predictions are as up-to-date as possible. And, of course, any number of extraneous circumstances can cause things to shift around.
While these rankings are helpful to contextualize the season and our expectations, our suggested bets on any match are still going to depend on the odds offered and the exact matchup. We've already posted our suggested bets for week 1 here, where you can find all of our suggestions for every single match we're able to cover. Remember, the more bets  you can place, the smoother your results will be and the better your overall performance!
---
We update our bet suggestions daily - betting sooner allows you to lock in better payouts, so make sure you're checking back as often as you can to maximize your potential. Subscribe and follow us on Facebook and Twitter to keep up with all of our developments and predictions and stay ahead of the game!