The International 10 - Group A Prediction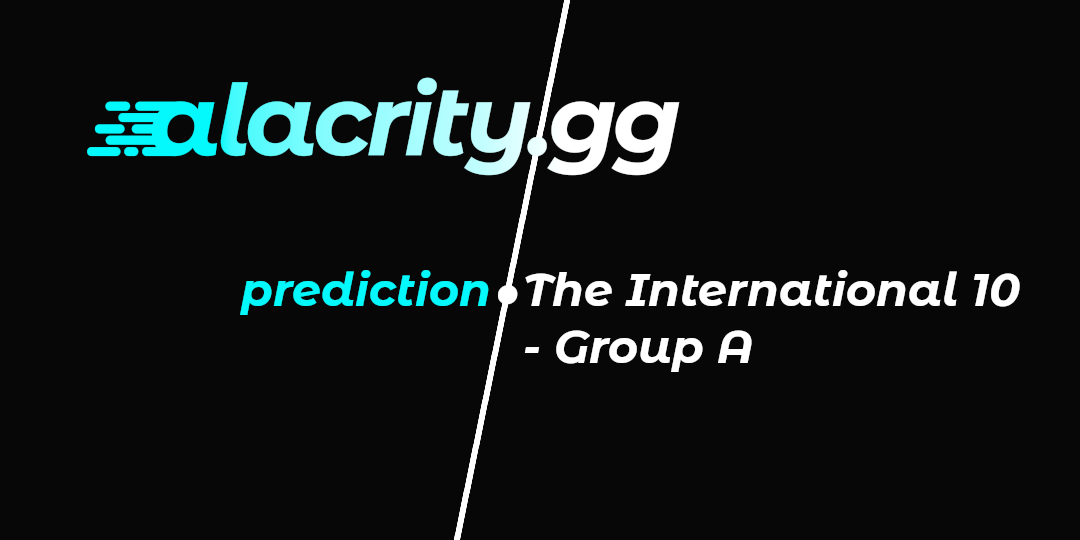 Groups are finally drawn for Dota 2's TI10, which means I have everything I need to simulate our predicted outcomes for the group stage. Placement determines main event seeding (as well as one elimination), so teams are going to have to perform from day one.
Here's the overall prediction, for everyone in need of a TL;DR: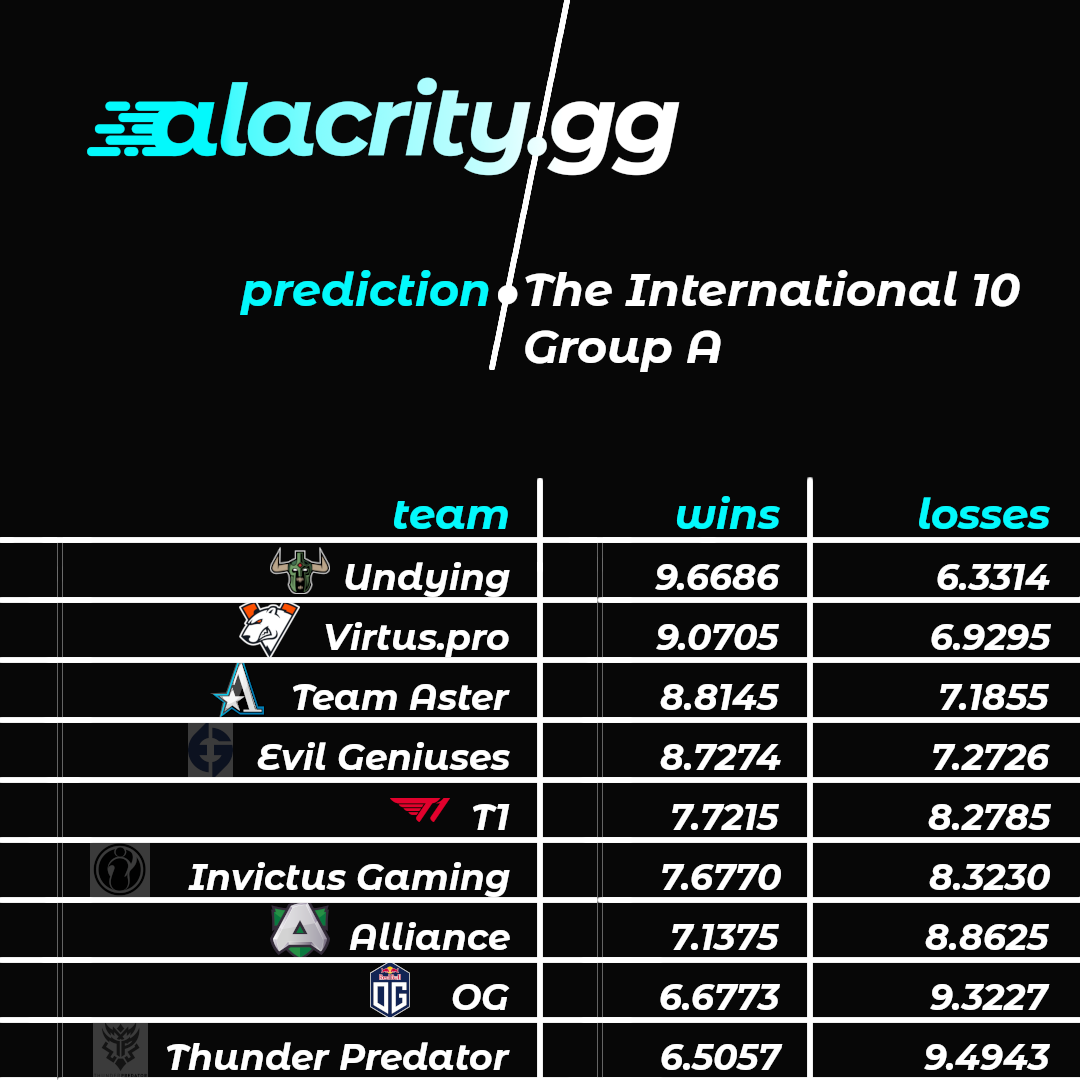 ---
Group stage setup
First, here's a quick rundown of how the group stage will operate. The eighteen attending teams were split into two groups of nine.
Each group plays a double round robin, which means that each team will face each other team in a best-of-two match. Placement within the group is determined by overall record (wins and losses).
The bottom team from each group is eliminated. The top four teams advance to the Upper Bracket of the main event. The remaining four teams (places five through eight) advance to the Lower Bracket of the main event.
In the case of a tie for placement:
If the tie is along the Upper Bracket and Lower Bracket or the Lower Bracket and Elimination divider, a tiebreaker game will be played
Otherwise, the following will be considered, in order:

Head-to-head result among the tied teams
Results against lower seeded teams
If multiple teams are tied, and a tie can be broken along the way, restart back at head-to-head results for the remaining teams
Coin toss
---
The teams
Here are your nine Group A contenders, and how they got to The International:
Alliance: #10 DPC points
Evil Geniuses: #1 DPC points
Invictus Gaming: #5 DPC points
OG: Western Europe Qualifier
T1: #6 DPC points
Team Aster: #9 DPC points
Team Undying: North America Qualifier
Thunder Predator: #12 DPC points
Virtus.pro: #3 DPC points
---
Our predictions
Matchups
First, I generated a prediction for every matchup in this group: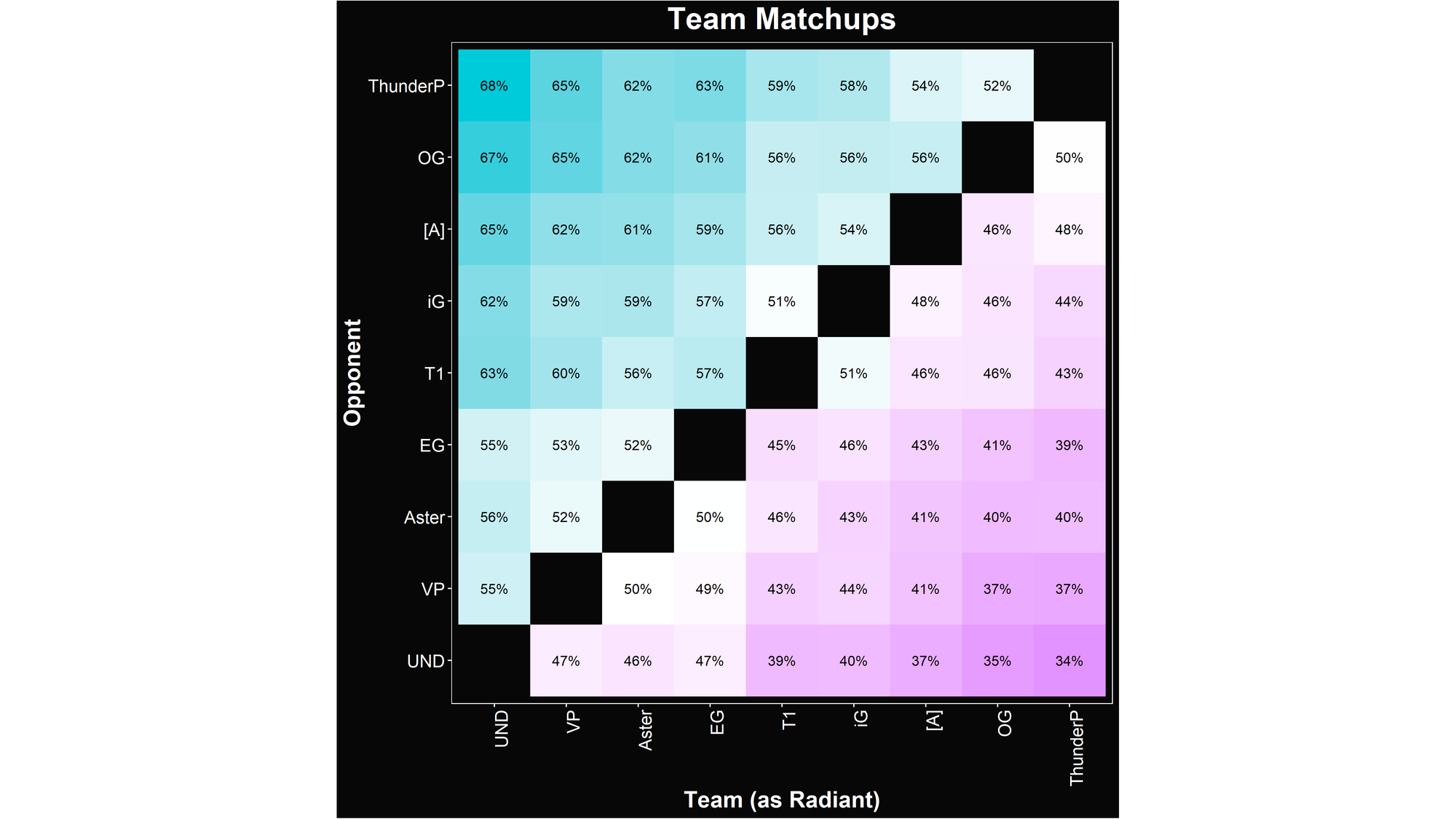 According to my model, Undying are the strongest team in this group, with favorable matchups against every other team. There is a fairly sharp cutoff in quality between the top four teams (Undying, Virtus.pro, Team Aster, and Evil Geniuses) and the other five, though that advantage is not insurmountable. Thunder Predator don't have a single favored matchup, even with side selection.
Expected records
With these matchups, I then simulated the round robin 50000 times. For each match, I assumed that each team would have one game as Radiant and one game as Dire. The average win-loss record of each team is:
| Team Name | Wins | Losses |
| --- | --- | --- |
| Undying | 9.6686 | 6.3314 |
| Virtus.pro | 9.07052 | 6.92948 |
| Team Aster | 8.81454 | 7.18546 |
| Evil Geniuses | 8.7274 | 7.2726 |
| T1 | 7.72154 | 8.27846 |
| Invictus Gaming | 7.67698 | 8.32302 |
| Alliance | 7.13746 | 8.86254 |
| OG | 6.67728 | 9.32272 |
| Thunder Predator | 6.50568 | 9.49432 |
No team is expected to get completely stomped. Even Thunder Predator, at the bottom, will win on average 41% of their games. This is fairly symmetrical as well, with the top team winning 60% of their total games. As noted, there's a noticeable dropoff from fourth to fifth place, with Evil Geniuses expected to win a full game more than T1, and otherwise fairly gradual shifts.
From these simulations, I can also generate each team's distribution of expected records: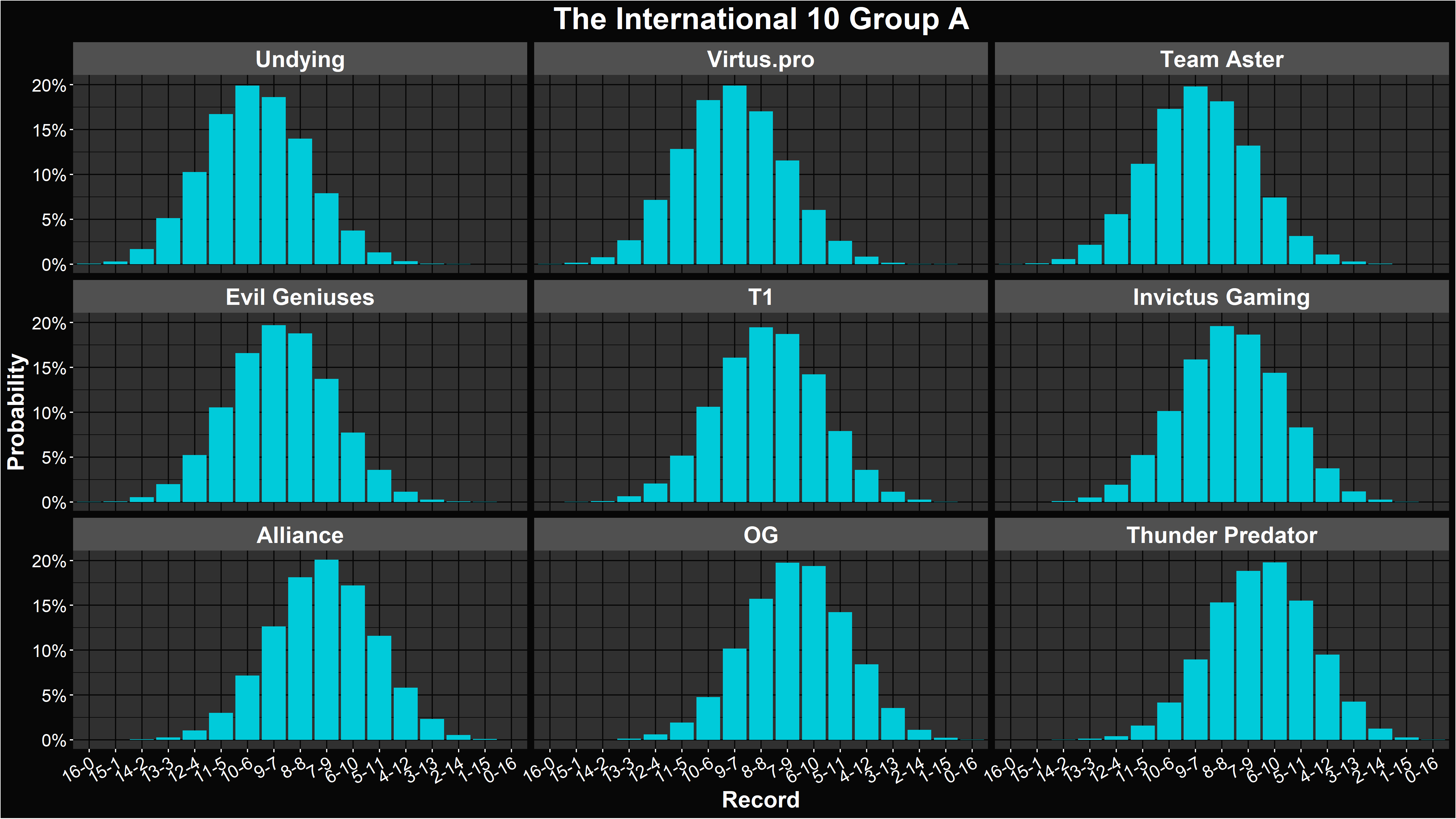 With sixteen games played by each team, the distributions are pretty much just bell curves (technically binomial, but conceptually close enough).
Expected placement
Records help determine each team's placement, but aren't the whole picture. In each iteration of the simulation, I ran through tiebreakers as appropriate to determine each team's final placement. Here is the probability for each team to win the group overall:
| Team Name | % 1st Place | Median Place |
| --- | --- | --- |
| Undying | 28.45% | 3rd |
| Virtus.pro | 18.89% | 3rd |
| Team Aster | 15.87% | 4th |
| Evil Geniuses | 14.94% | 4th |
| T1 | 6.75% | 5th |
| Invictus Gaming | 6.48% | 5th |
| Alliance | 4.04% | 6th |
| OG | 2.49% | 7th |
| Thunder Predator | 2.09% | 7th |
First place helps going into the main event, but any team in the top four of this group will get to start in the Upper Bracket, which is a solid foundation for an Aegis run. So, what's each team's chance of ending in the top four?
| Team Name | % Top 4 |
| --- | --- |
| Undying | 75.18% |
| Virtus.pro | 64.83% |
| Team Aster | 59.99% |
| Evil Geniuses | 58.18% |
| T1 | 38.01% |
| Invictus Gaming | 37.36% |
| Alliance | 27.48% |
| OG | 20.71% |
| Thunder Predator | 18.27% |
Undying have a three-in-four chance of starting in the upper bracket. All four top teams have more than even odds of this feat, and once again we see a pretty steep difference between Evil Geniuses in fourth and T1 in fifth.
As much as starting in the upper bracket helps a team's tournament run, starting in the lower bracket isn't necessarily lights out. As long as a team doesn't take last place in the group stage, they're still in the running. Somebody has to get eliminated, but which team is it most likely to be?
| Team Name | % Top 8 |
| --- | --- |
| Undying | 98.40% |
| Virtus.pro | 96.99% |
| Team Aster | 96.14% |
| Evil Geniuses | 95.76% |
| T1 | 89.48% |
| Invictus Gaming | 89.18% |
| Alliance | 83.62% |
| OG | 76.81% |
| Thunder Predator | 73.62% |
As we've mentioned, even the bottom teams aren't so far below the others in quality that they're basically guaranteed to get knocked out. With only one team out of nine going home early, the team most likely to do so still has an almost three in four chance of making it out of the group stage.
For completeness, here's each team's full distribution of possible placements: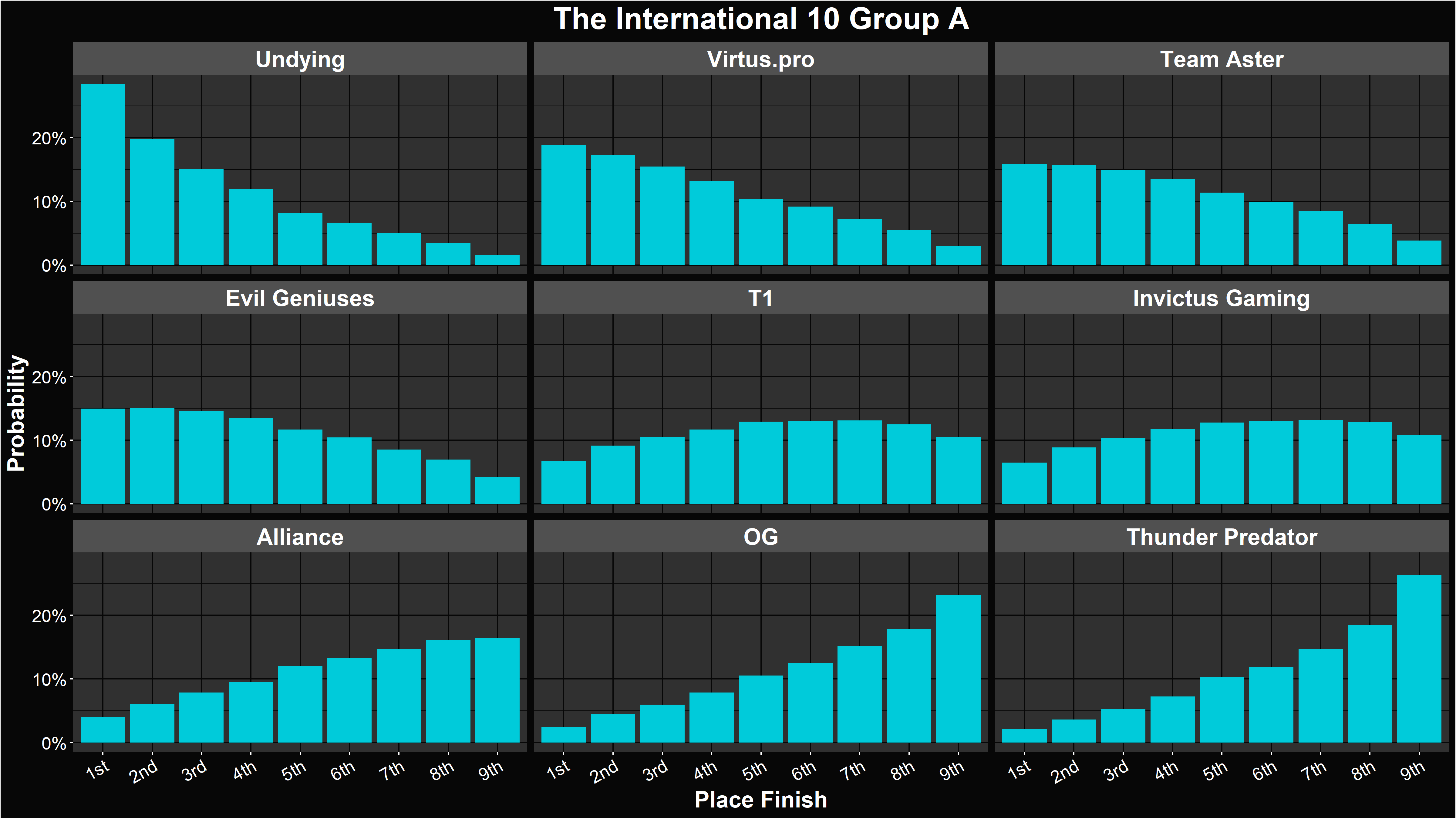 ---
Final thoughts
Putting Undying at the top of this group is going to be a contentious opinion for sure. While it's true that their recent string of good performance has been in what's considered an easier region, the team is composed of players that have seen their fair share of success in international competitions. They're by no means the big fish in a small North American pond.
In addition, my model has generally found that generally, regional strength has less predictive power than people might expect. It's still relevant, of course, but often given too much weight. Of course, this is only true on average, as applied to the full suite of historic professional games. There are certainly going to be instances in which this calibration falls apart do to the nuances of specific tournaments or teams. I still think Undying is being underrated, even if the model has overcompensated for them a bit.
As always, check our suggested bets daily to get the latest scoop on which matches are mispriced by the market, and where you can find the most value.
---
For more in-depth match analysis, discussion, and predictions, as well as quantitative betting strategy tips, subscribe to stay in the loop! You can also follow us on Twitter or Facebook for quick prediction snapshots of upcoming matches. Alacrity is your fastest path from simply gambling to beating the market. Stay ahead of the game!