2021 Summer Playoffs Roundup - Weekend of 8/21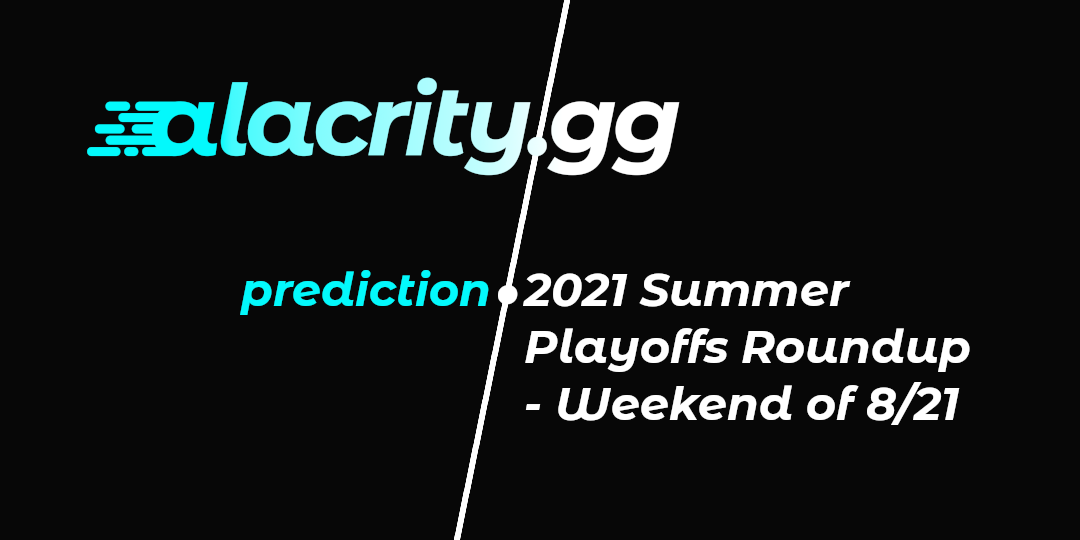 As playoffs continue, a number of games for this weekend are being finalized. We're starting to reach semifinals, so the stakes are turned up! Here are our predictions for LCK and LPL games, and we'll update with LEC and LCS predictions as those matchups get set.
---
LCK
08/21: DWG KIA v Nongshim RedForce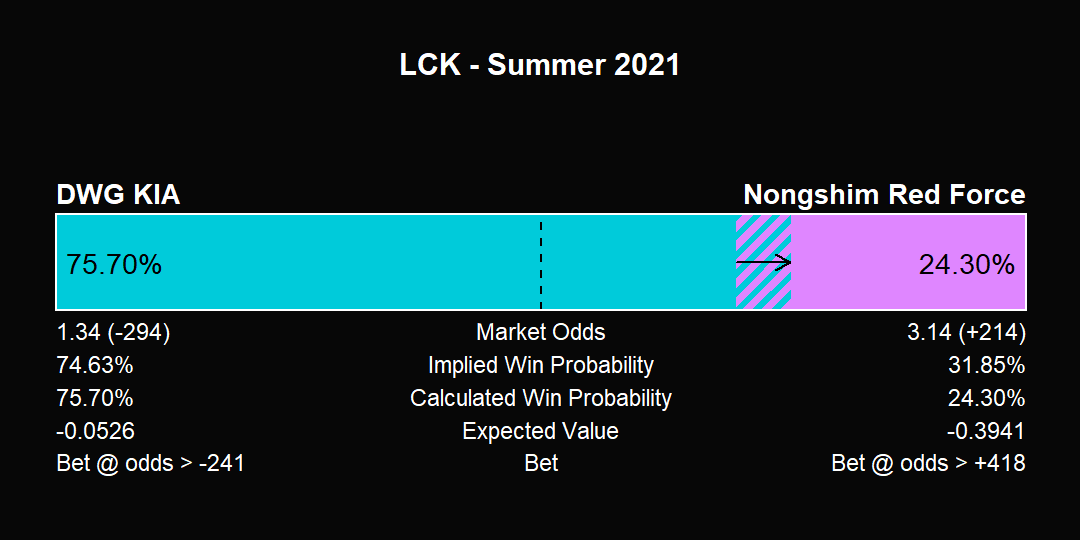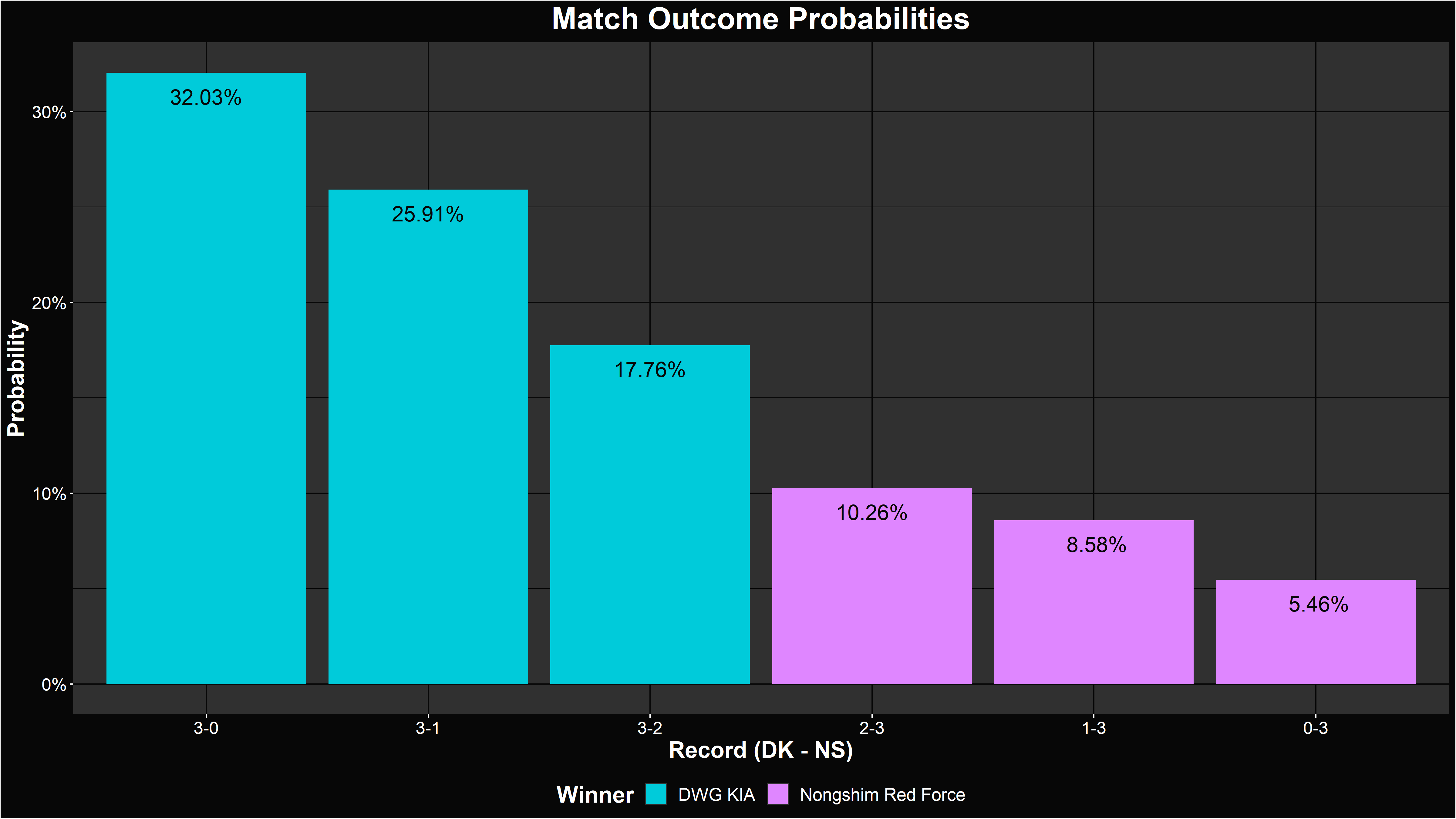 In the first LCK semifinal, DWG KIA had the choice of facing either winner of the quarterfinals, and chose to face Nongshim RedForce over T1. Seems like it was a reasonable choice, as the market is giving them roughly 70/30 odds and we'd generally agree, and argue that it may even be closer to 75/25. Not enough of a differential to be worth betting on, but we expect to see DK in the finals! The loser of this match will take either 3rd or 4th place overall, depending on the outcome of the other semifinal (DK is guaranteed 3rd, NS will take 3rd if T1 loses and 4th if Gen.G loses), and take home 80 or 50 championship points.
08/22: Gen.G v T1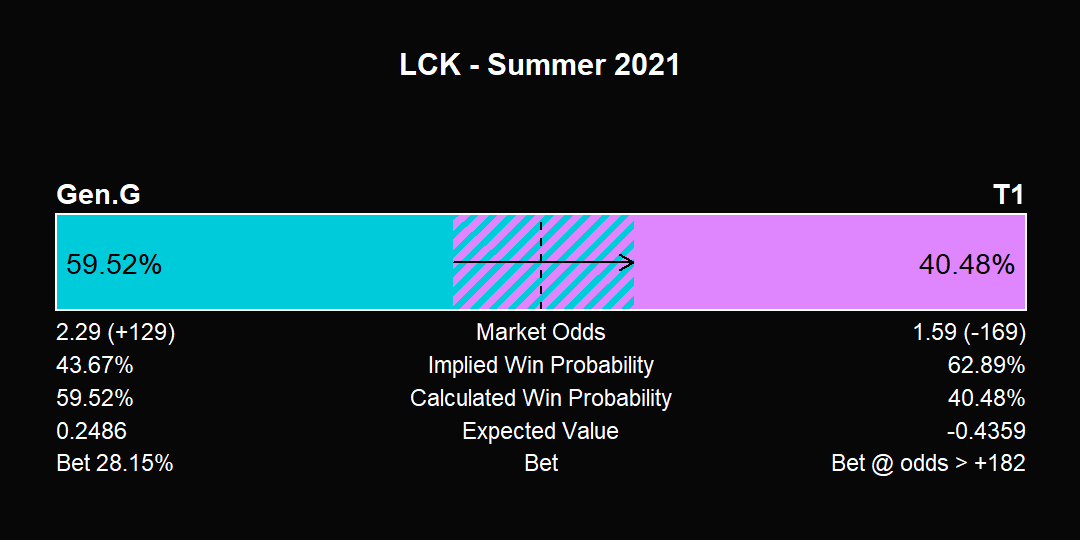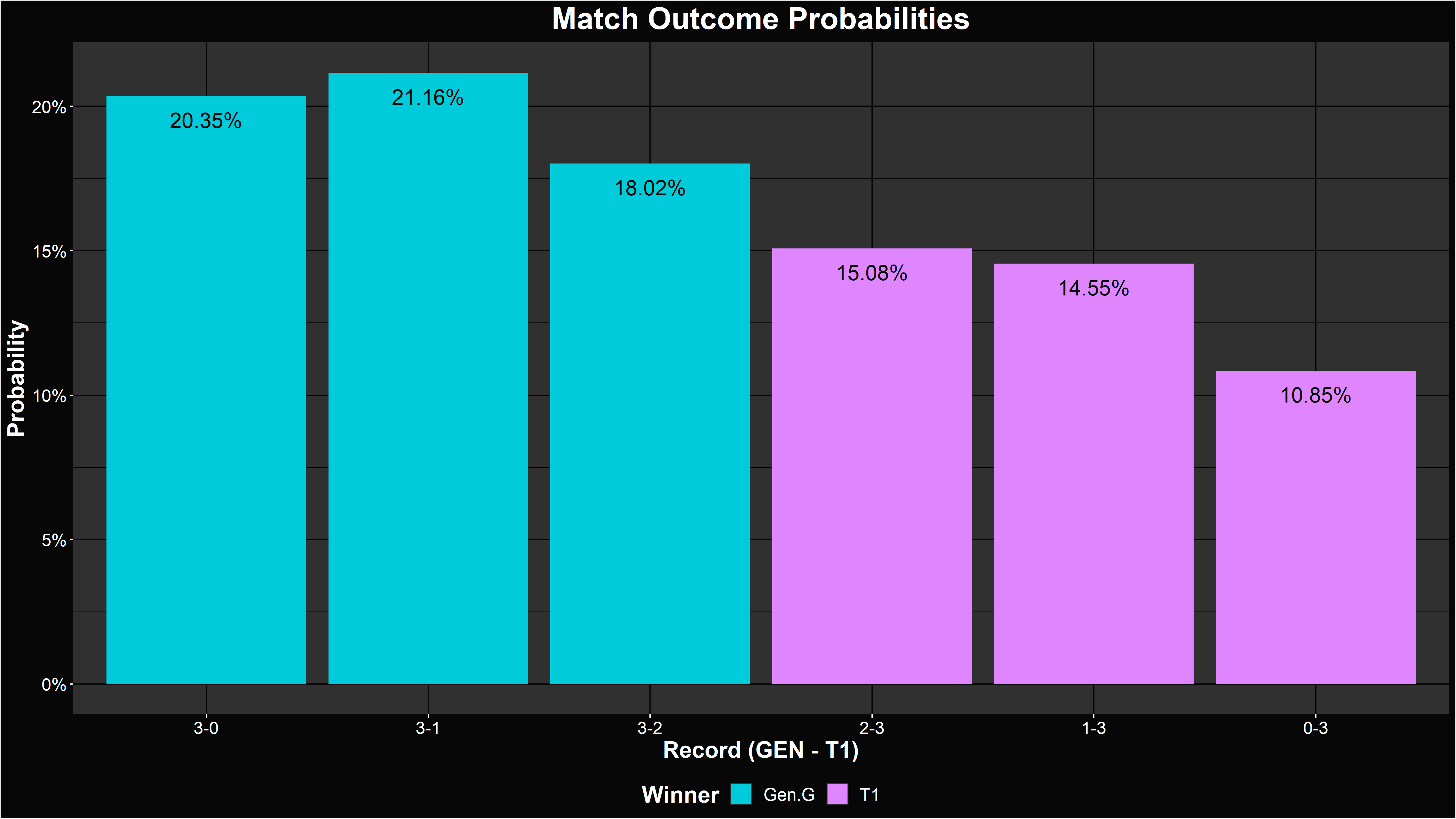 In the other semifinal, we have an almost opposite view from the market: they're giving T1 the edge at close to 60/40, while we've got Gen.G at around the same 60/40. This leads to a fairly sizable suggested bet of ~28% of your unit bet size on Gen.G. We'll see how this one plays out, but our expectation is a DWG KIA v Gen.G finals! Loser here again takes 3rd or 4th, depending on the other semifinal: if T1 loses they're guaranteed 4th place, while Gen.G takes 3rd over NS but 4th against DK.
---
LPL
08/21: LNG Esports v FunPlus Phoenix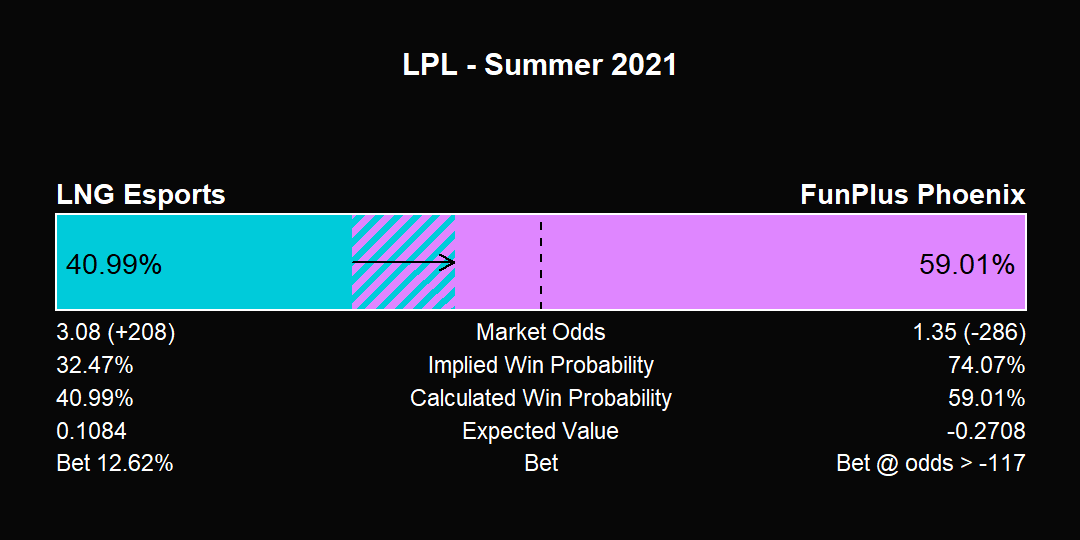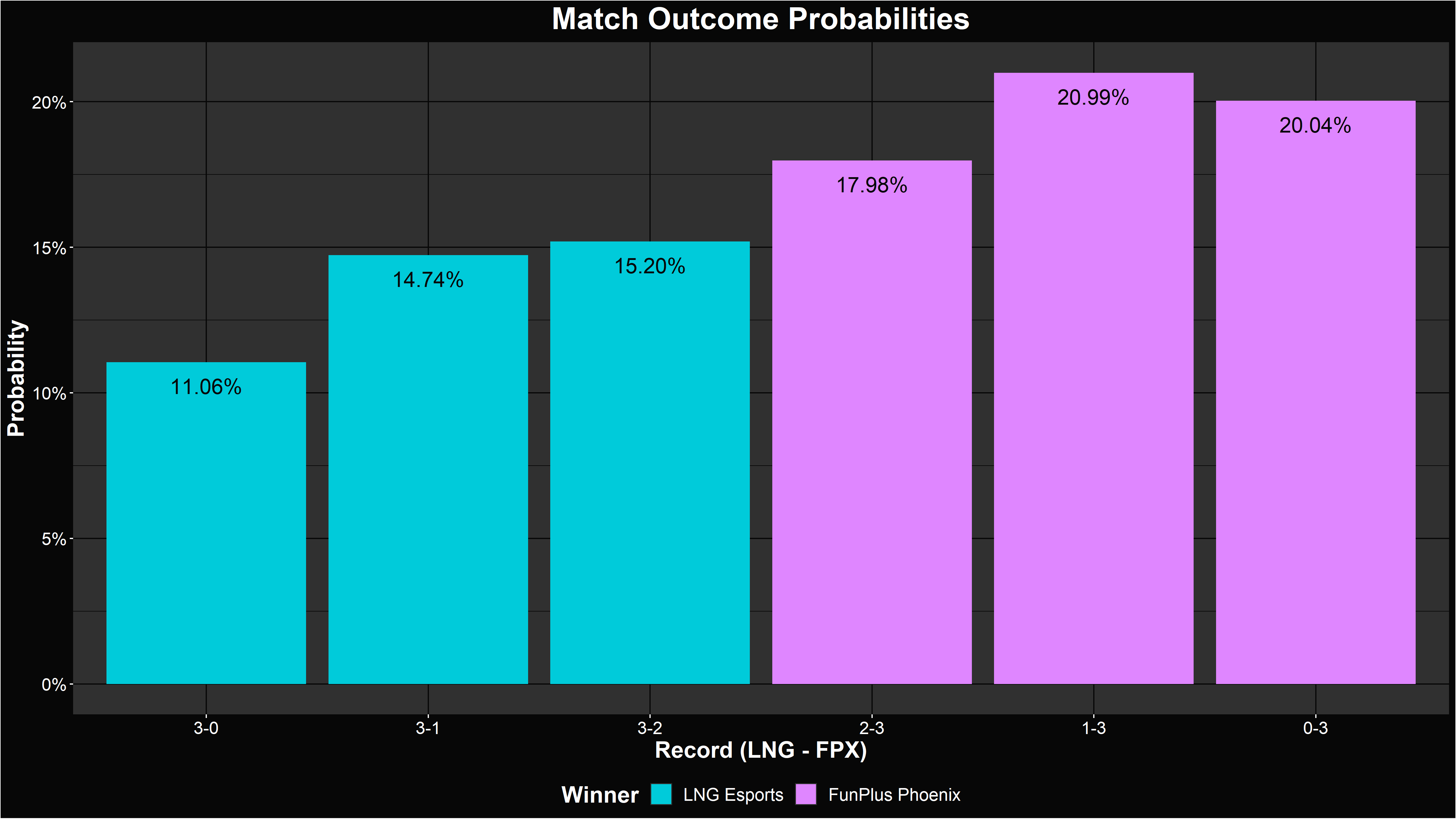 LNG Esports has been on an absolute tear, starting in round 1 of the king-of-the-hill LPL bracket and taking out Suning, Top Esports, and Royal Never Give Up consecutively to end up here. The market believes this is where their reign of terror ends, giving FunPlus Phoenix around 70/30 odds to shut them down. We think LNG's hot streak may continue: they're still unfavored by our model against the #1 seed, but we think they've got around a 41% shot at breaking through. This leads to our suggested 12.6% bet - not insane value, but the payout is good enough to stake a small sum. The loser drops down to the lower bracket, so their run won't be over quite yet.
08/22: Team WE v EDward Gaming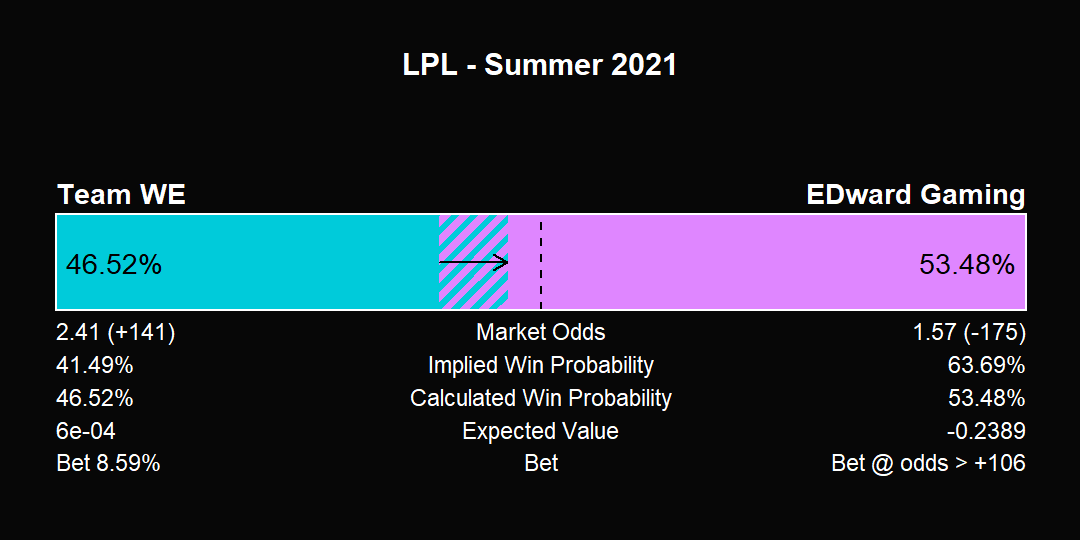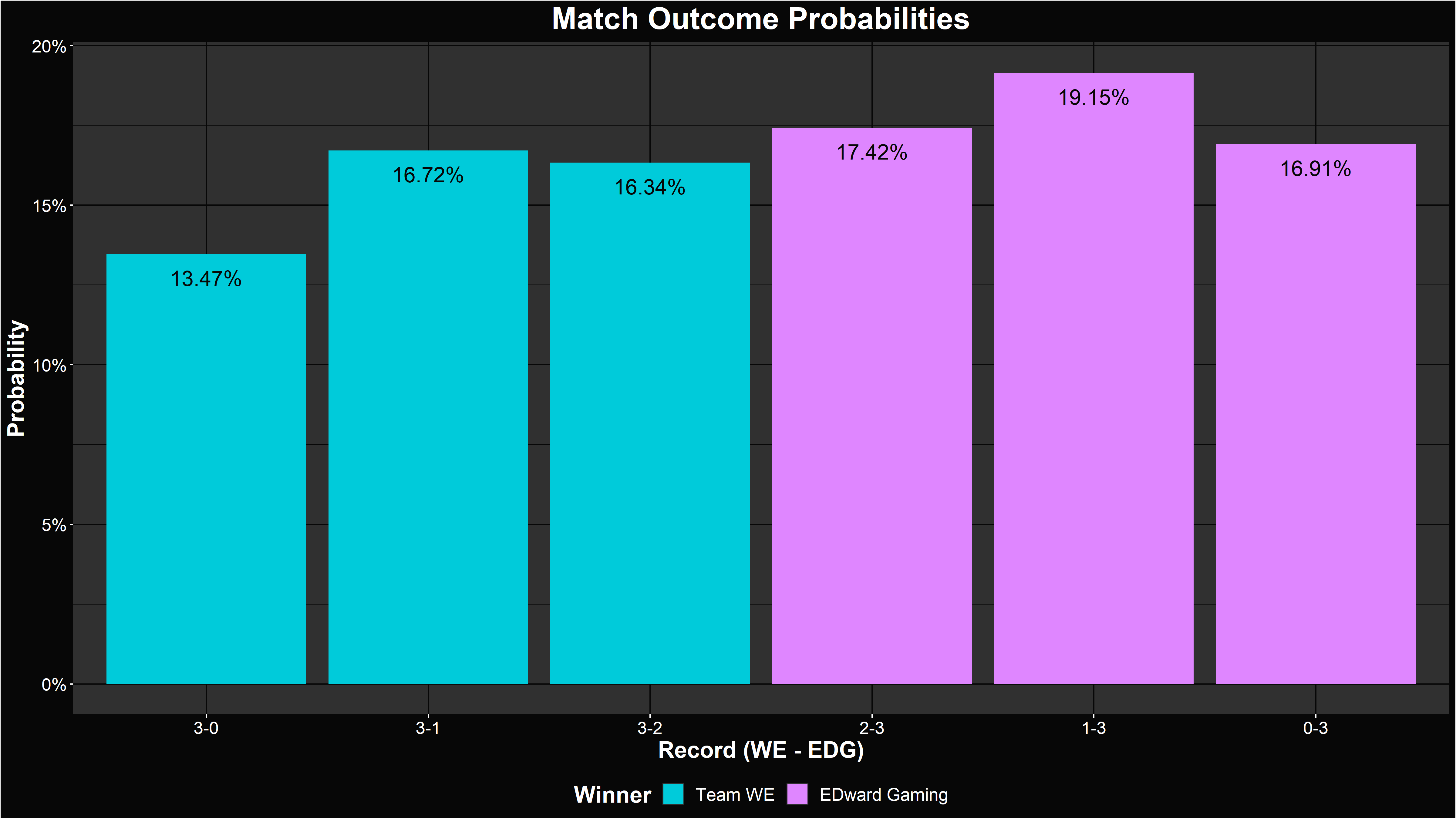 Another case of an insane bracket run! Team WE also started in round 1, and has stonewalled Oh My God, Bilibili Gaming, and Rare Atom (their first dropped games). They now face the #2 seed, EDward Gaming, but have secured at minimum a 4th place finish! The odds market gives EDG a 61/39 shot at ending WE's streak, but once again our model likes the underdog here and puts them at ~47% to keep going. Less value here, so a relatively small bet: 8.6% of your unit bet size.
---
LEC
08/22: G2 Esports v Fnatic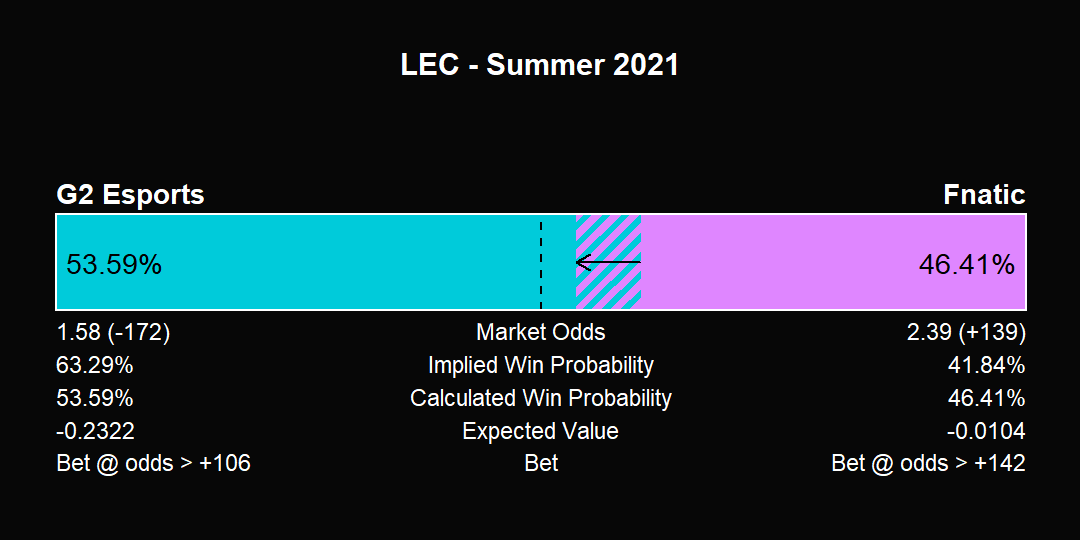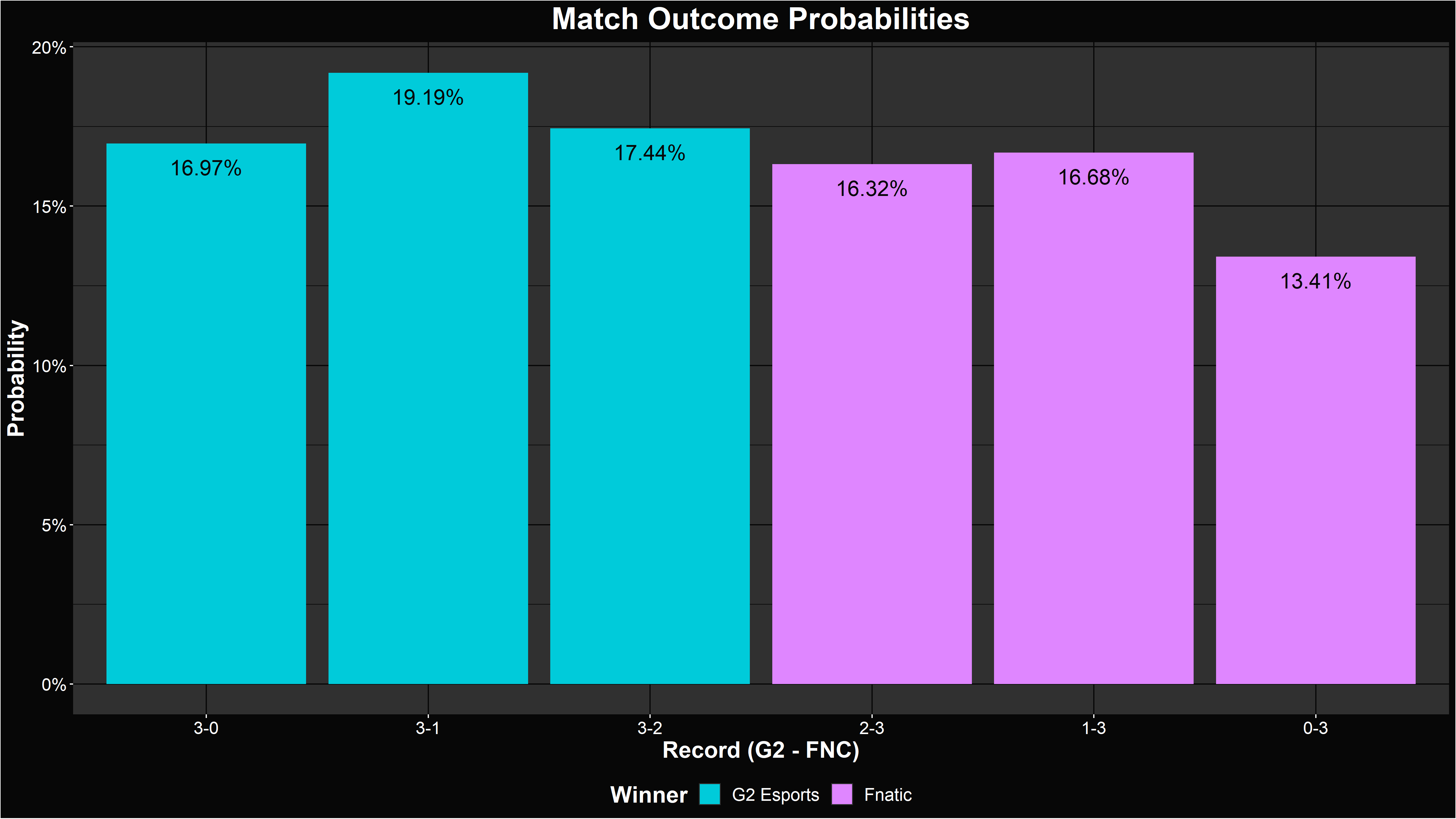 Fnatic took a narrow 3-2 victory over Misfits Gaming, and is now off to round 3 of the lower bracket, where they face G2 Esports. We're a bit more in favor of Fnatic than the market is, with ~46/54 odds compared to the market's ~40/60. Not quite enough value for us to think it's worth betting on, but the payout is right on the edge so it's worth keeping an eye on the odds market over the next two days. The loser of this one takes home 4th place, which is just shy of a qualification to Worlds, so the heat is on!
---
LCS
08/22: Cloud9 v TSM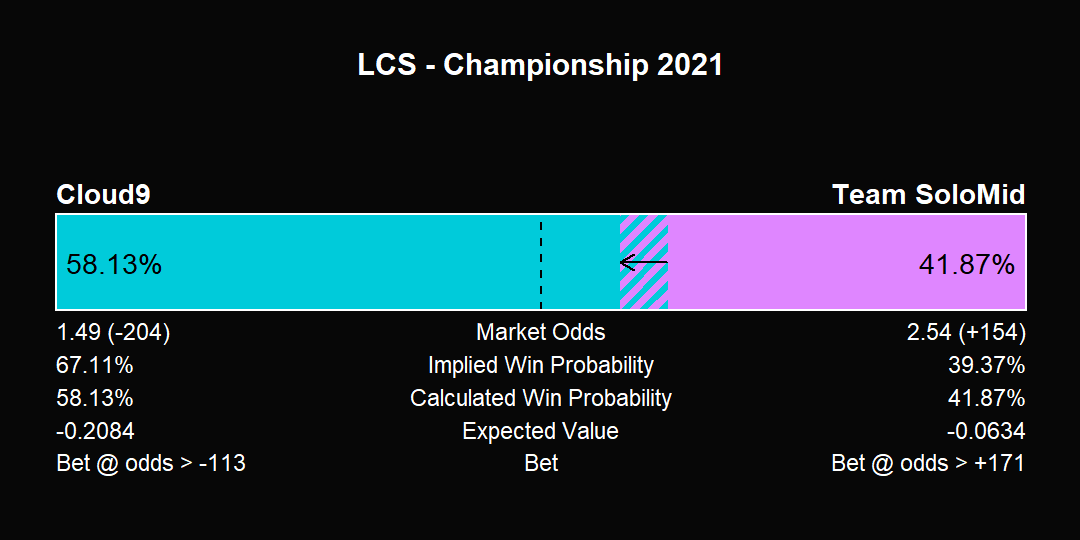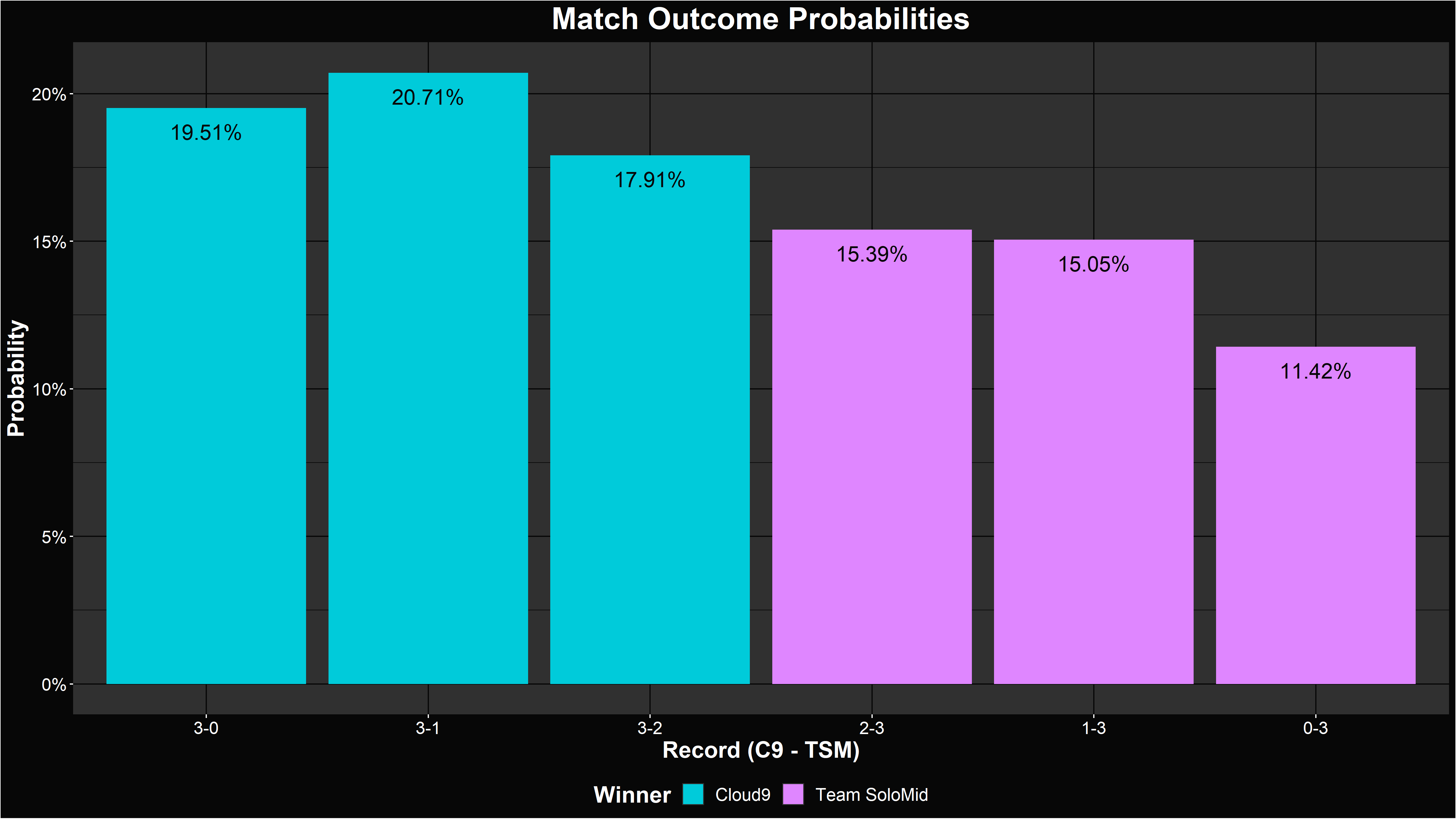 TSM took a solid 3-1 win over Immortals, moving on to face Cloud9. The market puts this one at 63/37 in C9's favor; our model is closer to 58/42, so a slight tilt away from C9 but not enough to find betting value on TSM. The loser of this match takes 4th place overall, which is one rank short of qualifying to Worlds, so one team is going to be severely disappointed.
---
For more in-depth match analysis, discussion, and predictions, as well as quantitative betting strategy tips, subscribe to stay in the loop! You can also follow us on Twitter or Facebook for quick prediction snapshots of upcoming matches. Alacrity is your fastest path from simply gambling to beating the market. Stay ahead of the game!