2021 Summer Playoffs Roundup - Week of 8/23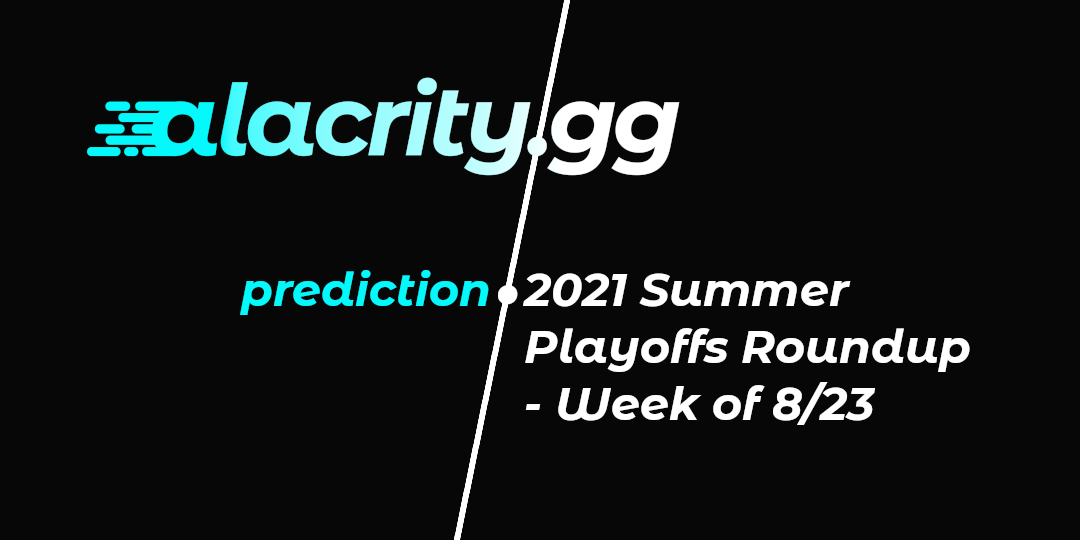 Regional playoffs are now starting to move into their final phases, so we're just on the cusp of getting a Worlds lineup! LCK has only its finals left, while LCS, LEC, and LPL still have a few games to go - and we'll keep you up to date on all of them!
---
LCS
08/28: 100 Thieves v Cloud9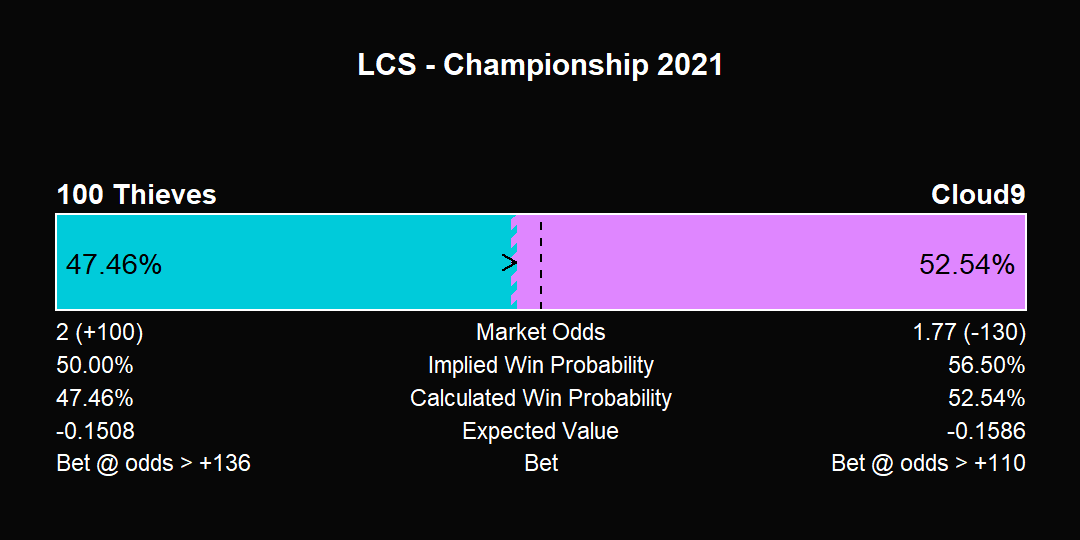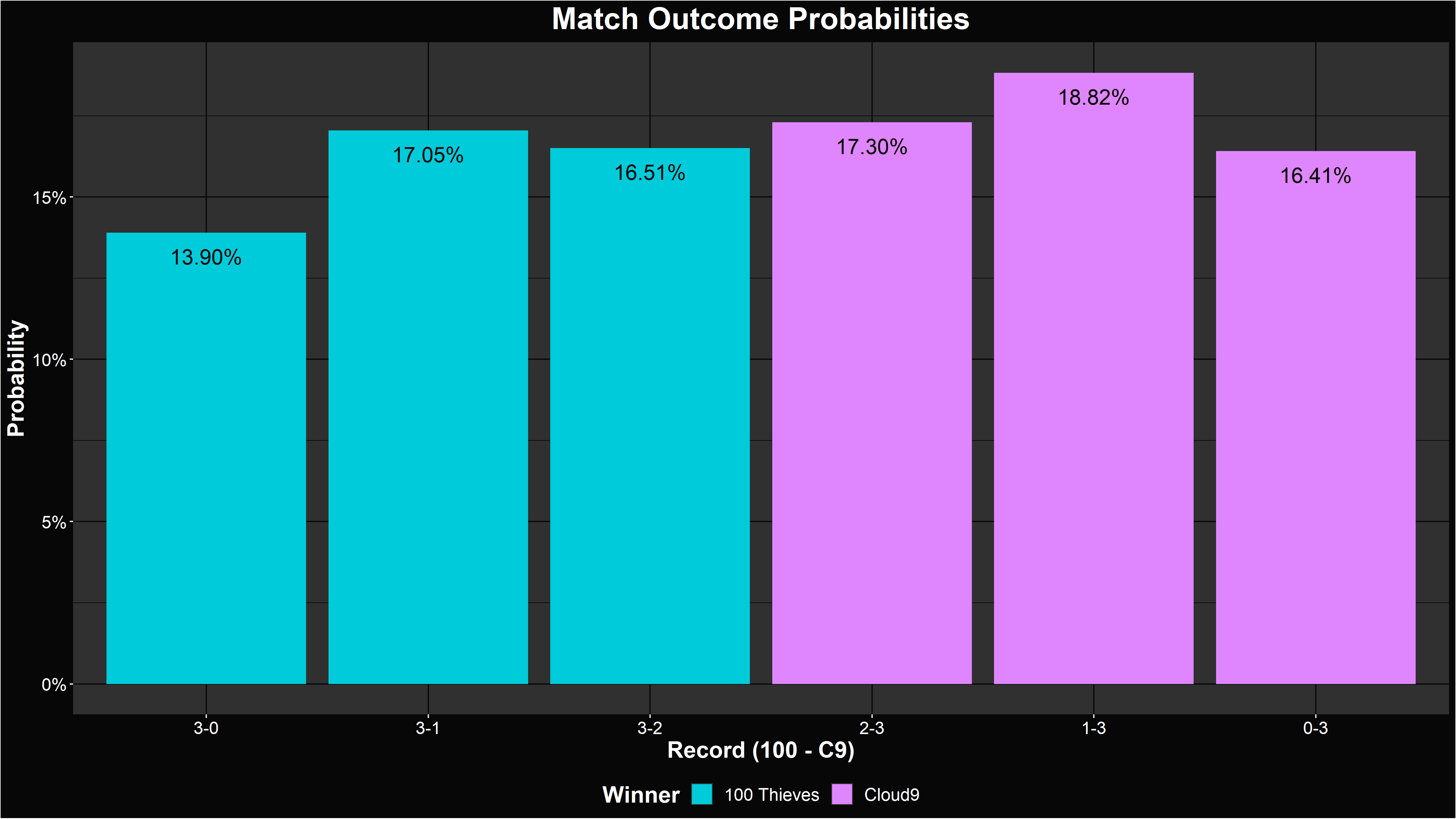 In the lower bracket semifinals, 100 Thieves has a chance to redeem their 2-3 loss against Team Liquid and beat Cloud9 to face TL again in the finals. We're almost exactly aligned with the market on this one, putting it at a very close 53/47 in Cloud9's favor. Odds would have to shift pretty dramatically for this match to be worth betting on, but close games are always a blast to watch so get your entertainment that way! Loser takes 3rd place, which is still good enough for a Worlds Play-In qualification.
---
LEC
08/28: Rogue v Fnatic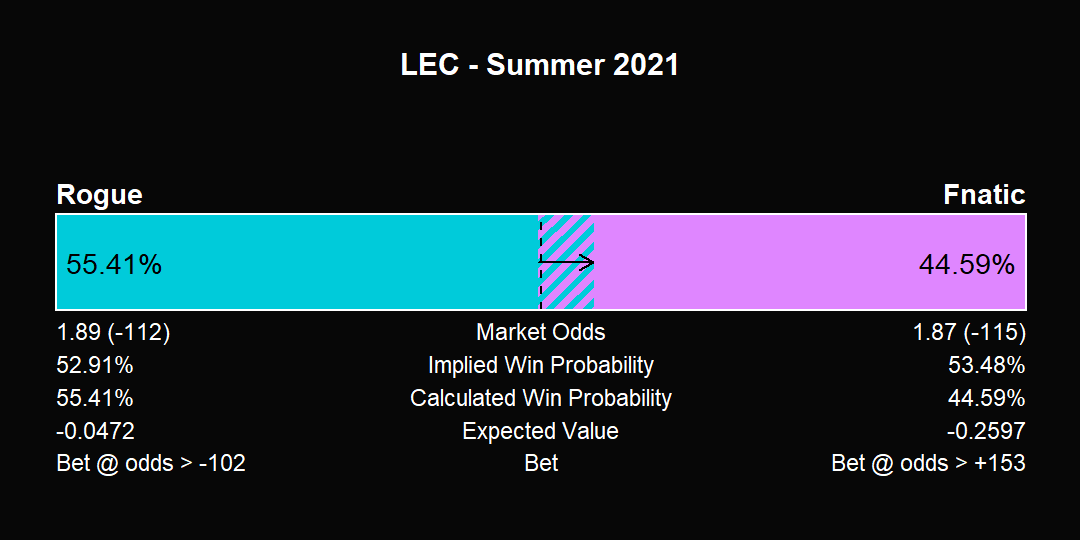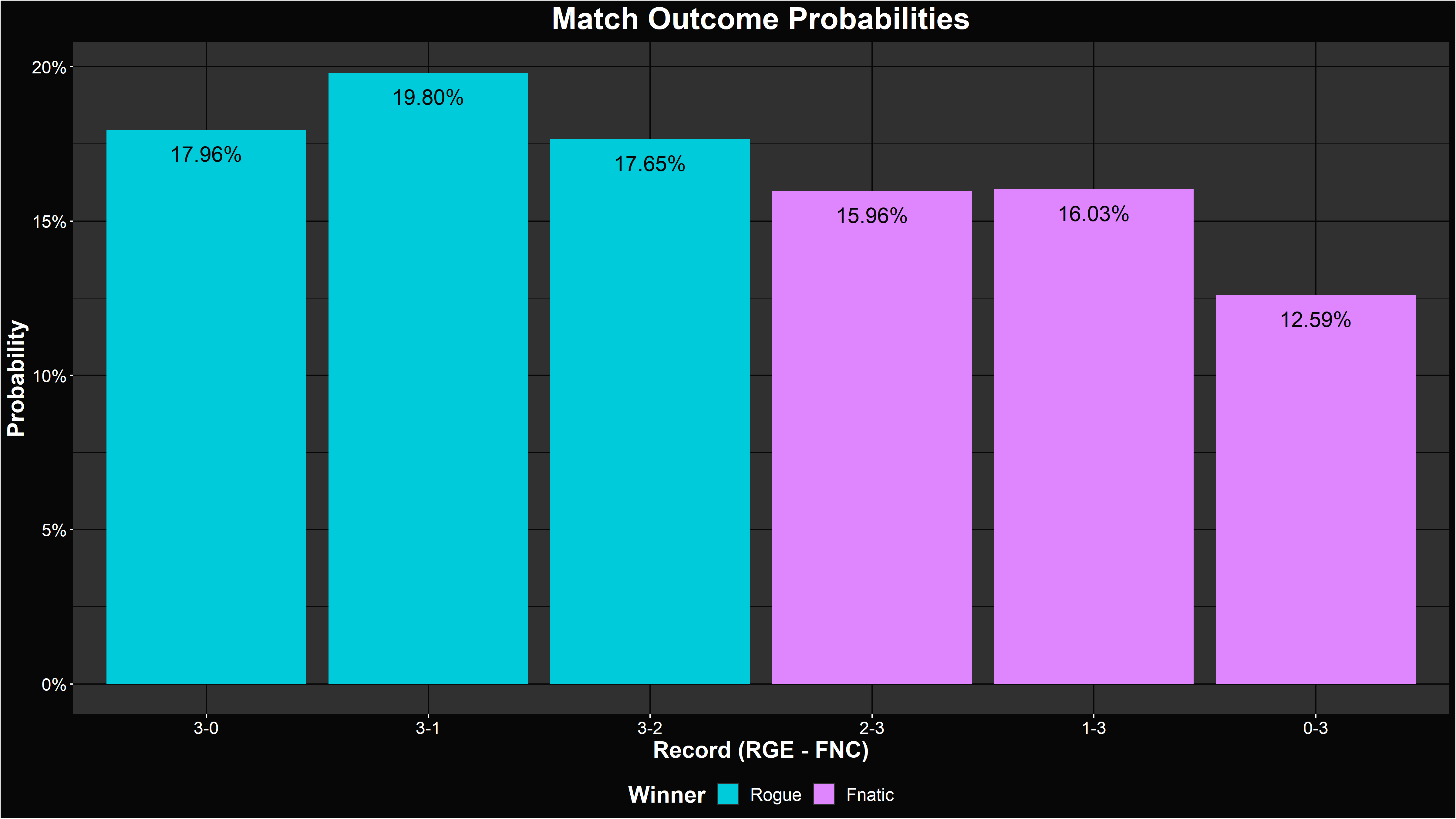 Another lower bracket semifinal; Rogue's unexpected 0-3 loss against MAD Lions pits them against Fnatic for another shot at the crown. Once again, the loser here still takes home a Worlds Play-In qualification at 3rd place. The odds market has this matchup at almost exactly 50/50! We slightly disagree, and would say that Rogue has closer to a 55/45 edge, but there's not quite enough separation there for a bet to have good value. Also, we'd love to see an absurd 5-match run from Fnatic from their lower bracket start all the way through the finals, just for the memes.
---
LCK
08/28: DWG KIA v T1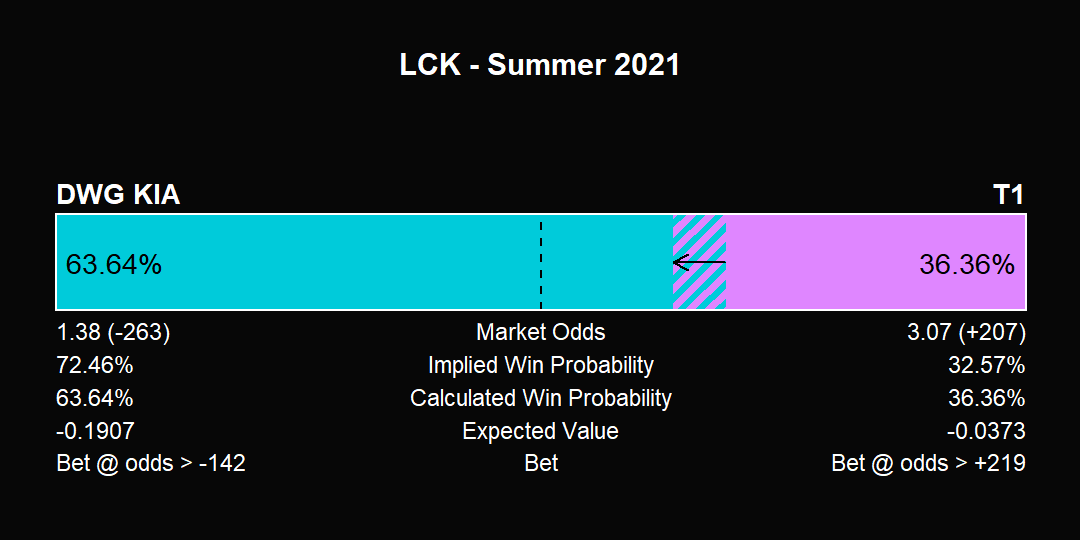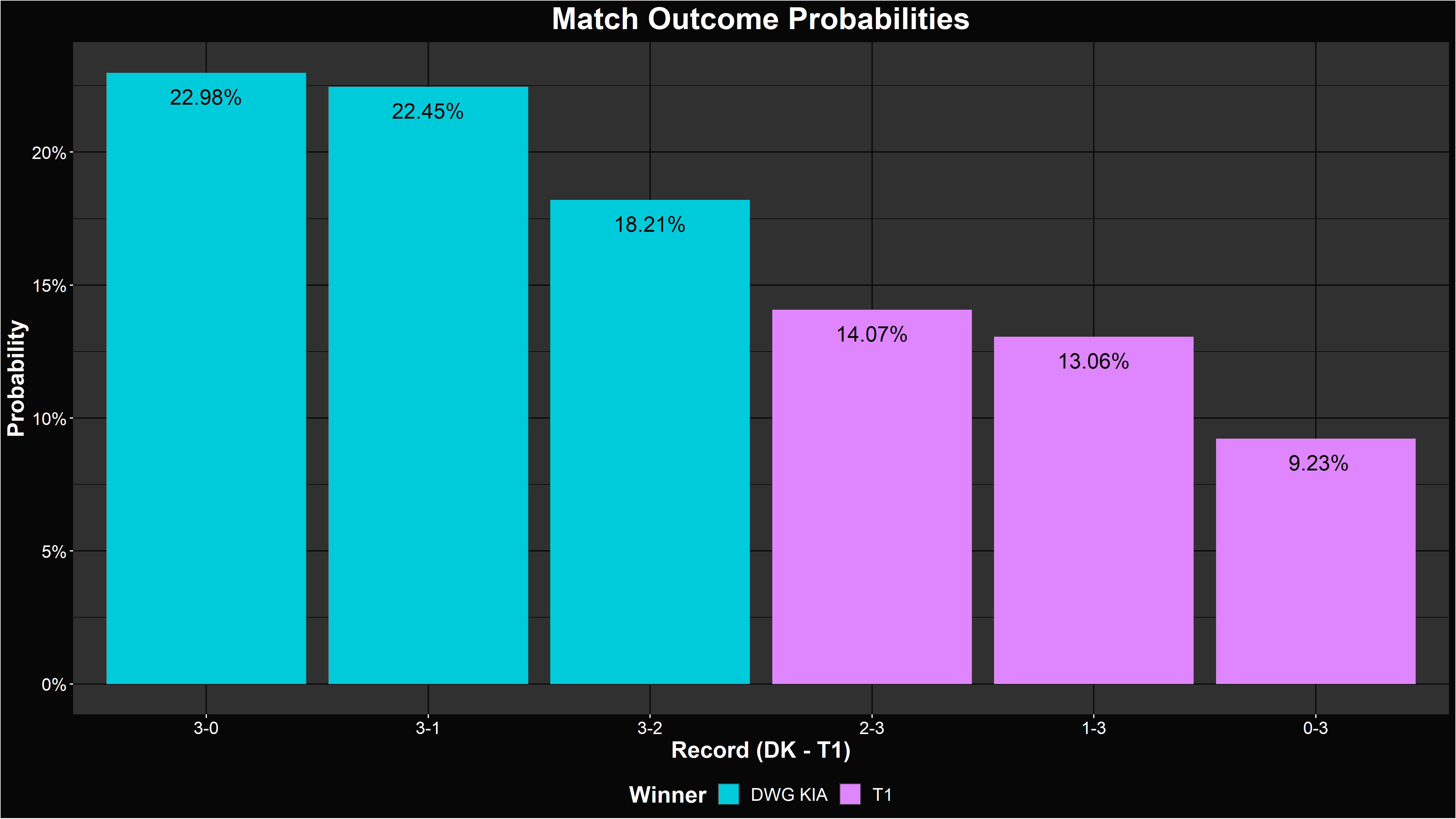 T1 surprised us with a fairly dominant 3-1 win over Gen.G to get to the LCK finals against DWG KIA. While we still think they're the underdog to actual take the overall win, we'd give them slightly better odds than the market does: 36/64 as opposed to the market's 31/69. Odds are very close to being worth betting on, value-wise; our model wouldn't quite suggest it, but getting a 2x payout on a somewhat possible T1 upset would sure feel fun. Winner of this match gets a direct qualification to Worlds, but DK is fairly safe in that regard: even if they lose this match, 2nd place will bump their Championship Points up to 190, more than enough to take the points lead and snag that second qualification spot (the next highest would be Gen.G with 150 points). If T1 loses, however, they're back to fighting in the regional finals; their 130 total points will be just a bit shy of a direct lock-in, so Gen.G will take the second slot. In short: DWG KIA fans can feel pretty safe, but both T1 and Gen.G fans are gonna feel some pressure here.
---
LPL
08/26: LNG Esports v EDward Gaming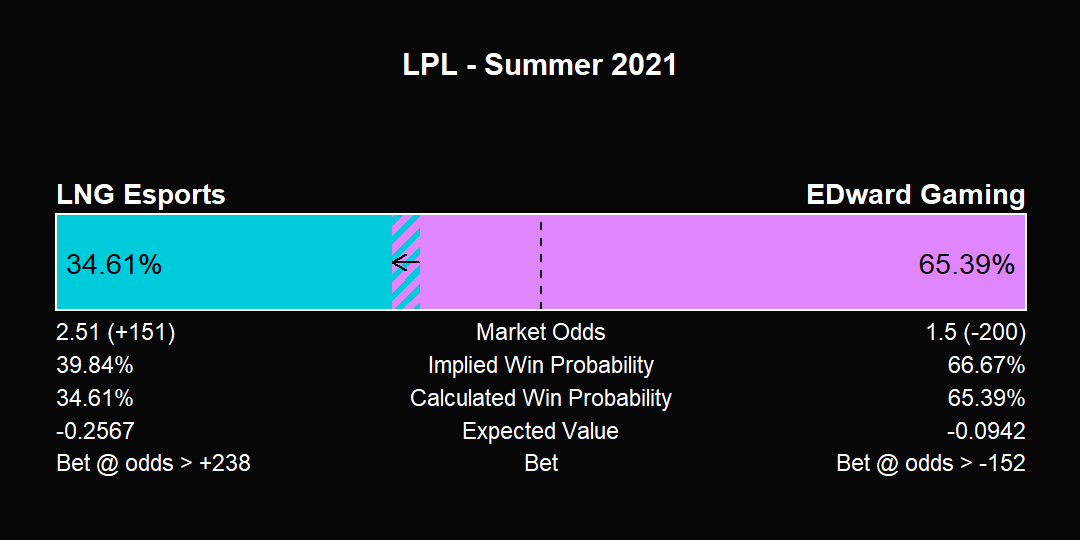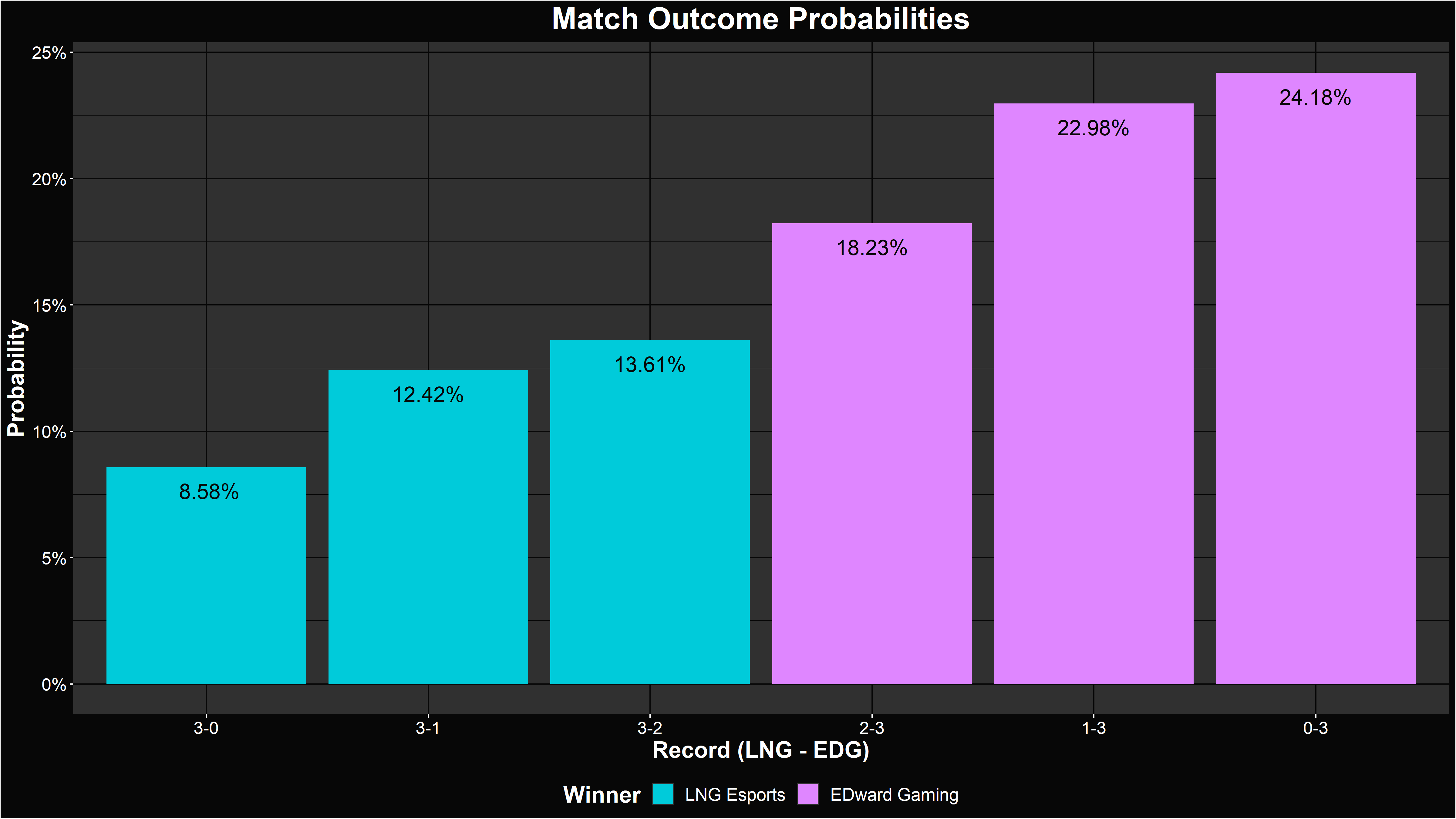 LNG faces off against EDward, battling to stay alive in the LPL playoffs. The loser here takes 4th place, which would likely not grant enough Championship Points for a qualification to Worlds. We believe, as does the market, that EDG has a pretty significant edge here; we put it at 65/35 while the odds are closer to 63/37. The vig strips out any betting value, unfortunately.
08/27: FunPlus Phoenix v Team WE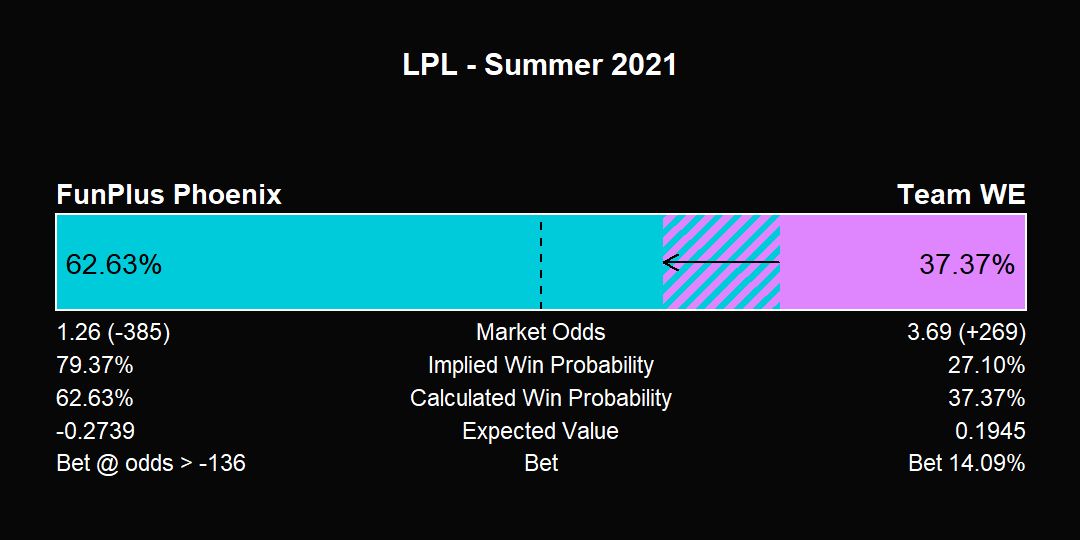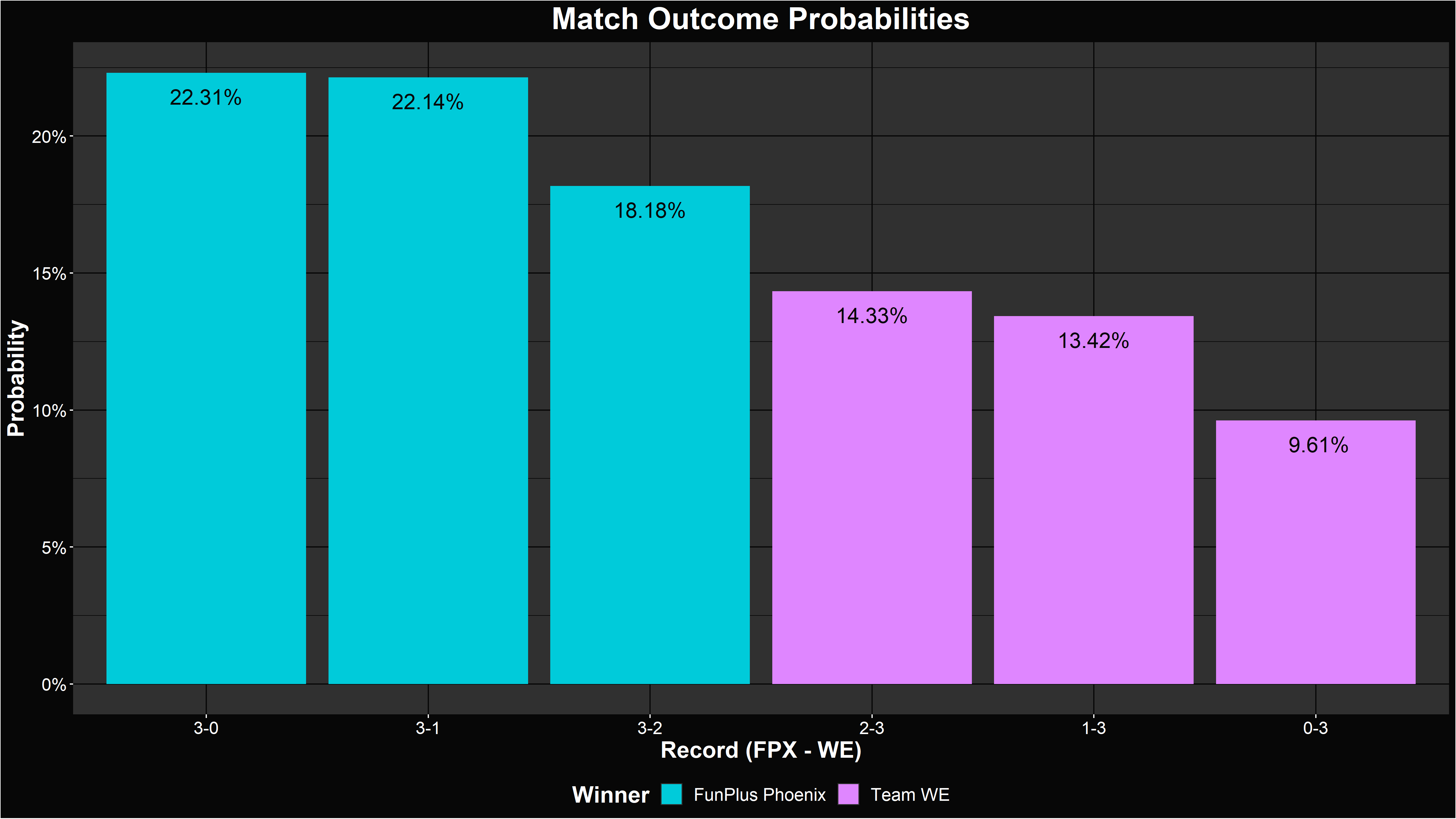 In the semifinals, Team WE have battled their way all the way from their 7th seed, first round spot to face FunPlus Phoenix for a spot in the finals! Both teams here are guaranteed at least 3rd place and the 80 Championship Points that come with it, but a win is still more valuable. We actually think Team WE is a bit undervalued by the odds right now; it's unlikely they hit massive flukes 4 times in a row to get here. They're still unfavored, but we'd put their shot at 37/63, not 25/75 as the odds would imply. This creates enough value that we'd suggest a 14% bet on WE. It's still more likely to flop than to pay off, but the disproportionate payout makes it worth the risk from a value perspective.
---
Sunday Games
On top of these five matches, there will be three more this Sunday that are determined by the outcomes of these five:
Team Liquid faces the winner of 100 Thieves v Cloud9 in the finals of the LCS Championship.
MAD Lions faces the winner of Rogue v Fnatic in the finals of the LEC Playoffs
The lower bracket semifinals of the LPL Playoffs will consist of the two losers of the matches listed here.
We'll put out another post with those games as soon as they start to be determined, and will keep that post updated as more information is set, so keep an eye out!
---
For more in-depth match analysis, discussion, and predictions, as well as quantitative betting strategy tips, subscribe to stay in the loop! You can also follow us on Twitter or Facebook for quick prediction snapshots of upcoming matches. Alacrity is your fastest path from simply gambling to beating the market. Stay ahead of the game!