2021 Summer Playoffs Roundup - Week of 8/16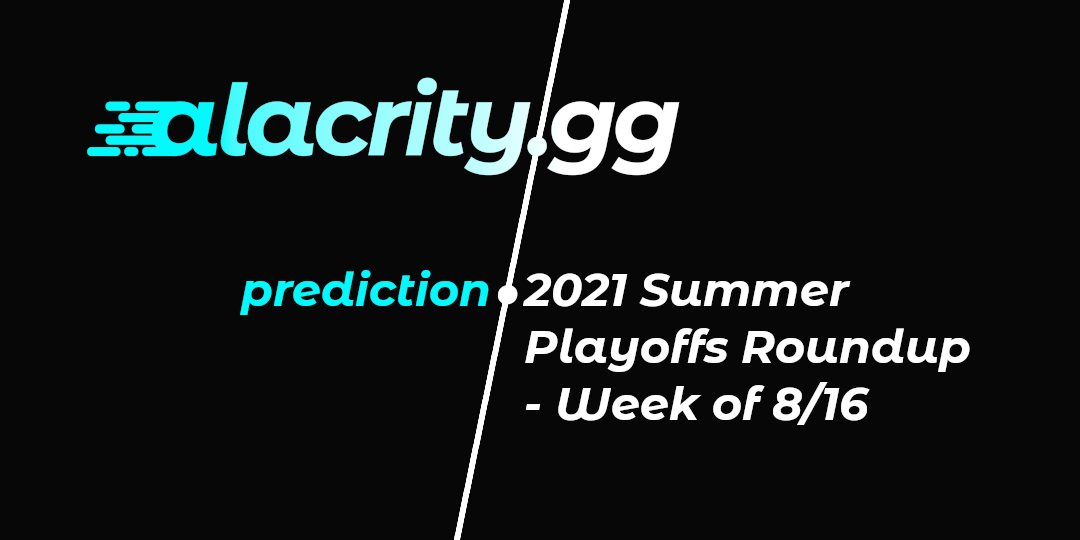 With so many regional playoffs in motion now, we're going to eschew our usual single-game posts in lieu of a roundup article, where we'll cover all of our predictions for this week across LCS, LEC, LPL, and LCK playoff games!
---
LCS
08/19: Immortals v TSM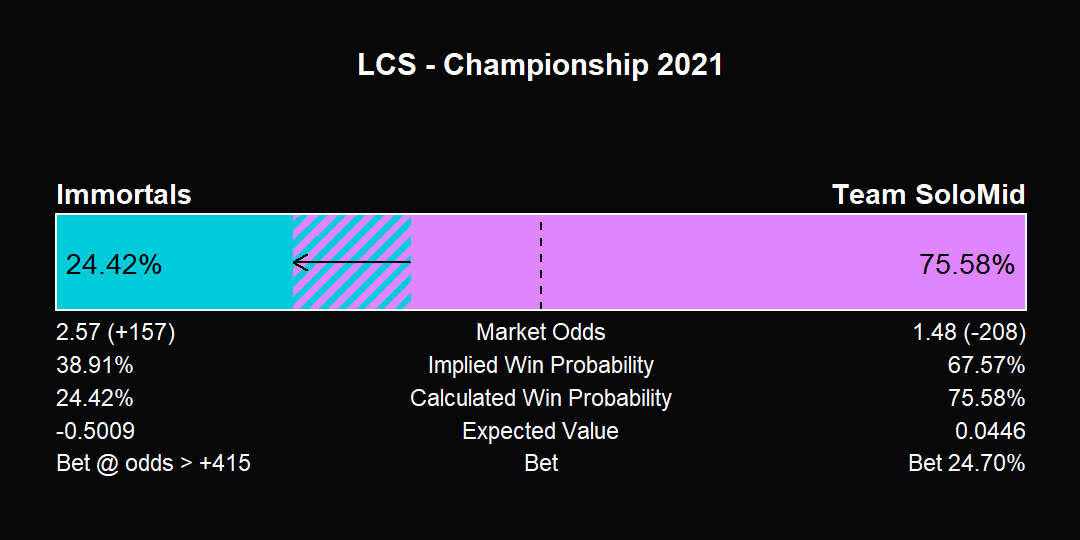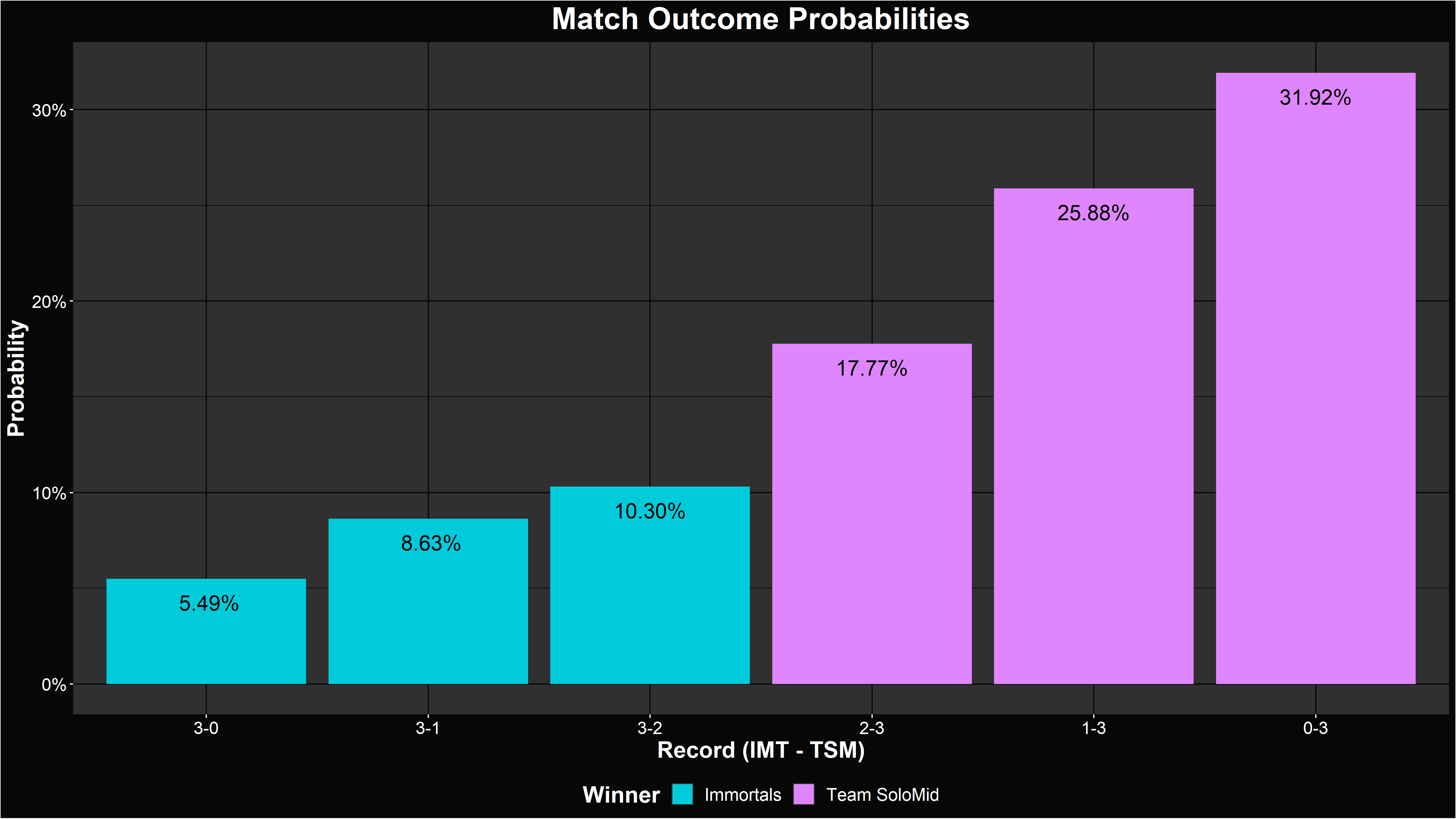 TSM should handily win this one - we think they've got about a 3/4 shot at taking the W. The market agrees directionally, but we think they're overrating Immortals, and would suggest betting ~25% of your unit bet size on TSM. The loser of this match goes out in 5th-6th place, while the winner continues their lower bracket journey.
08/20: Cloud9 v Evil Geniuses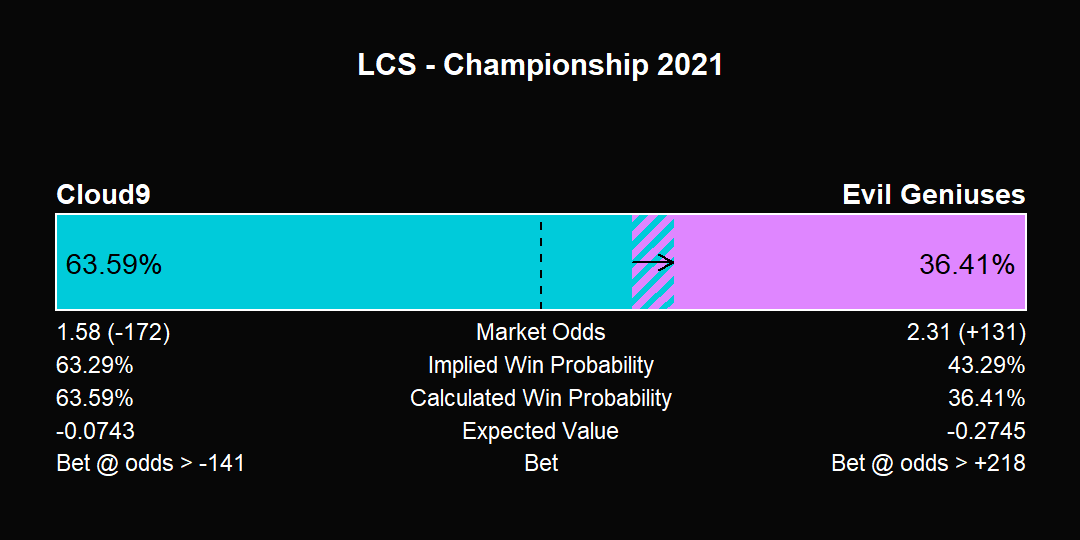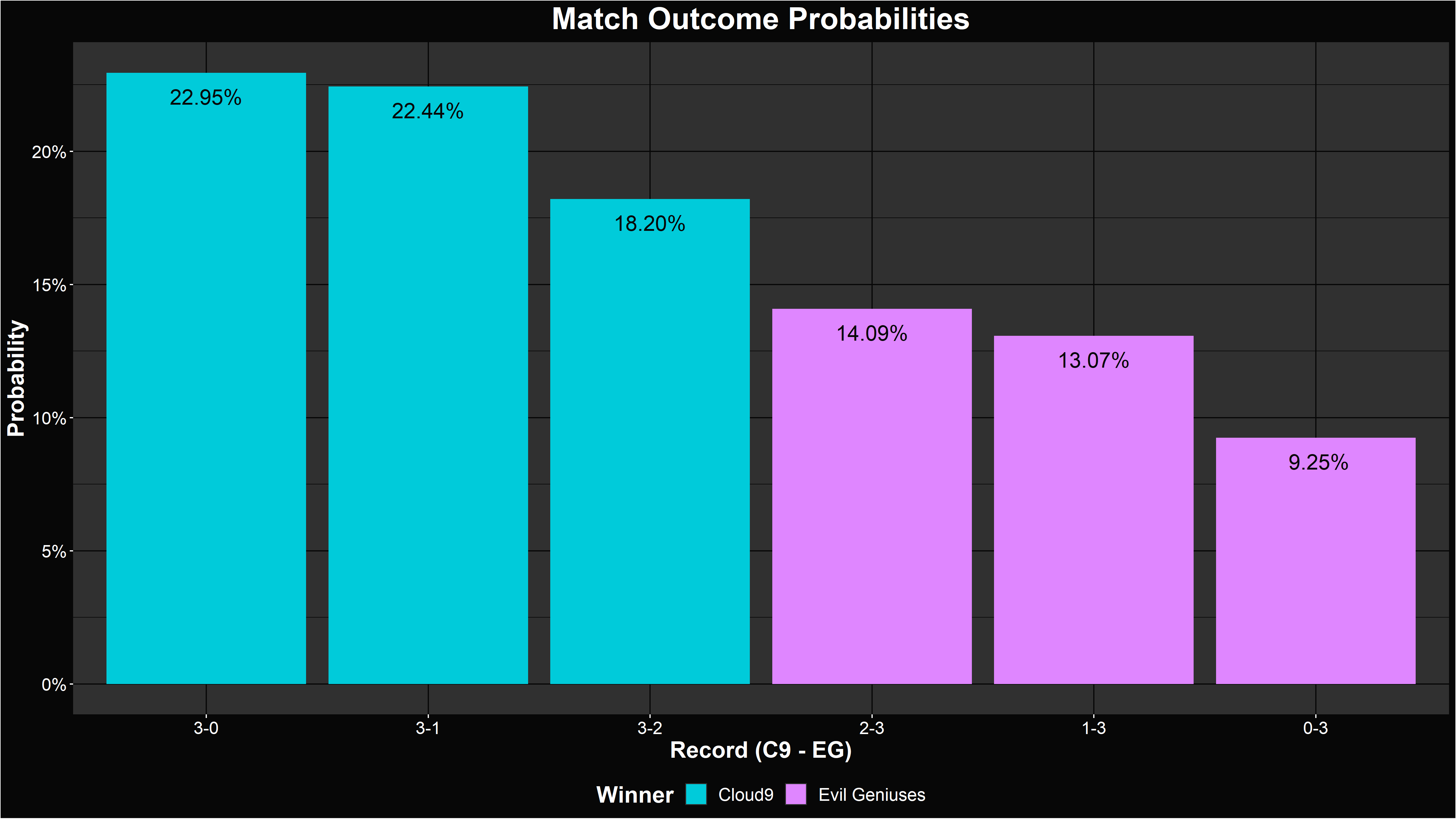 Cloud9 is favored about 64/36, and the market's estimate comes in fairly close. No bet here unless odds shift significantly in either direction. The loser of this one takes 5th-6th place, while the winner will face the winner of the IMT/TSM match in round 3 of the lower bracket.
08/21: 100 Thieves v Team Liquid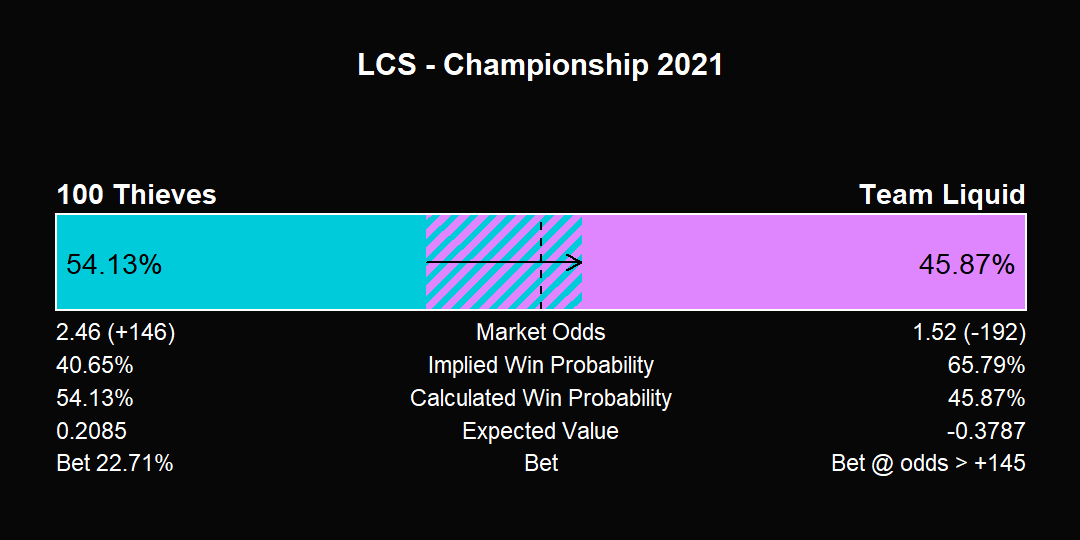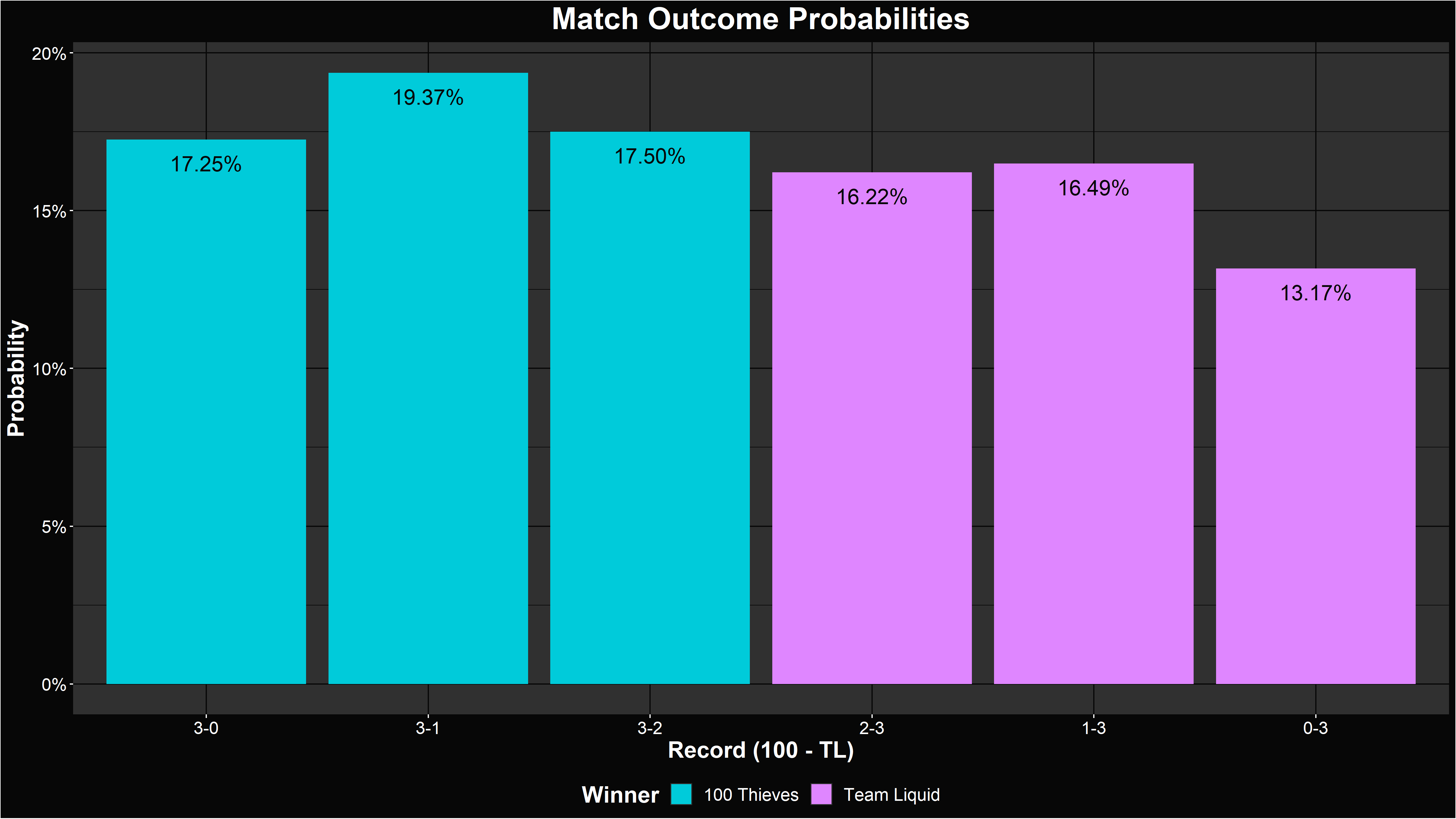 We actually directionally disagree with the market here! Market has Team Liquid as the likely victor at around 62/38, while we believe 100 Thieves is actually slightly favored. Hence, a ~23% unit bet size bet on 100 Thieves. The winner will go straight to the finals, while the loser will have a chance to redeem themselves in one last lower bracket match to reenact this matchup in the finals anyway (or, of course, they could drop out in 3rd). Either way, though, these two teams are guaranteed a top 3 finish, which is enough to secure a spot in the Worlds Play-In at the very least.
---
LEC
08/20: Misfits Gaming v Fnatic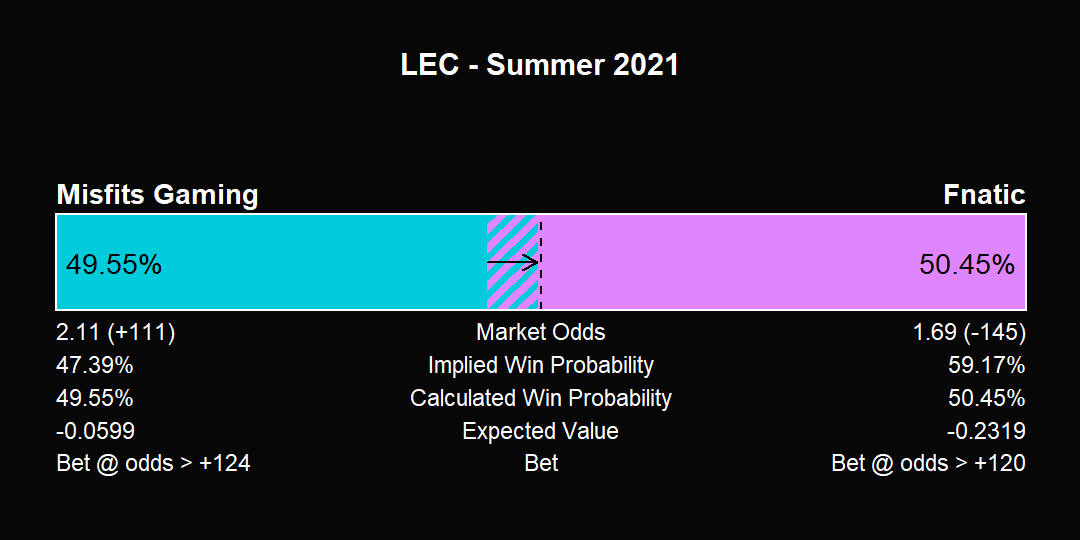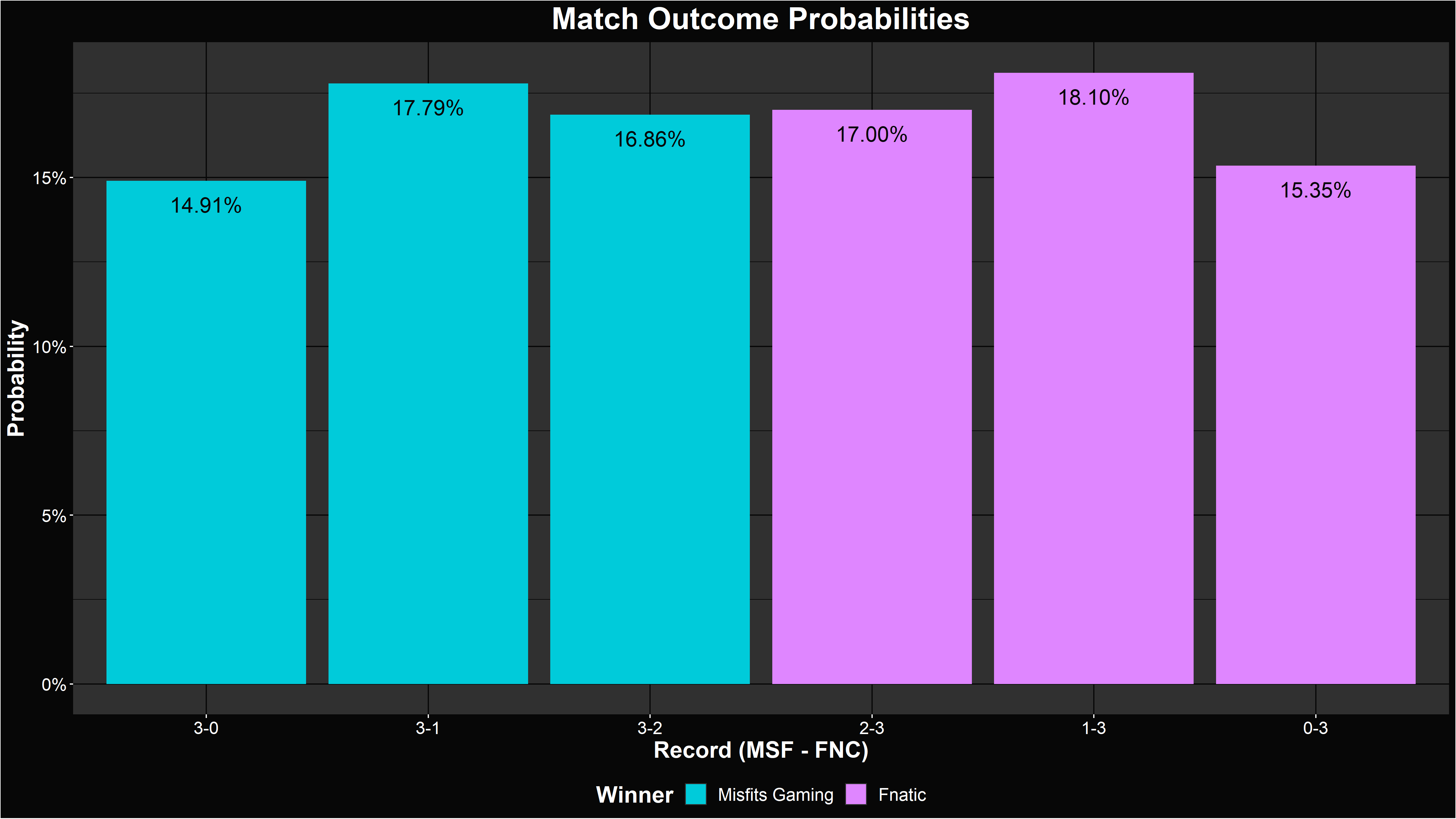 Very even match here - the market had it slightly tilted in Fnatic's favor, while we think it's almost exactly even. Not enough of a disagreement to suggest a bet (as always, we're looking for value). The loser of this match takes 5th place, while the winner will face G2 Esports in the next lower bracket round.
08/21: Rogue v MAD Lions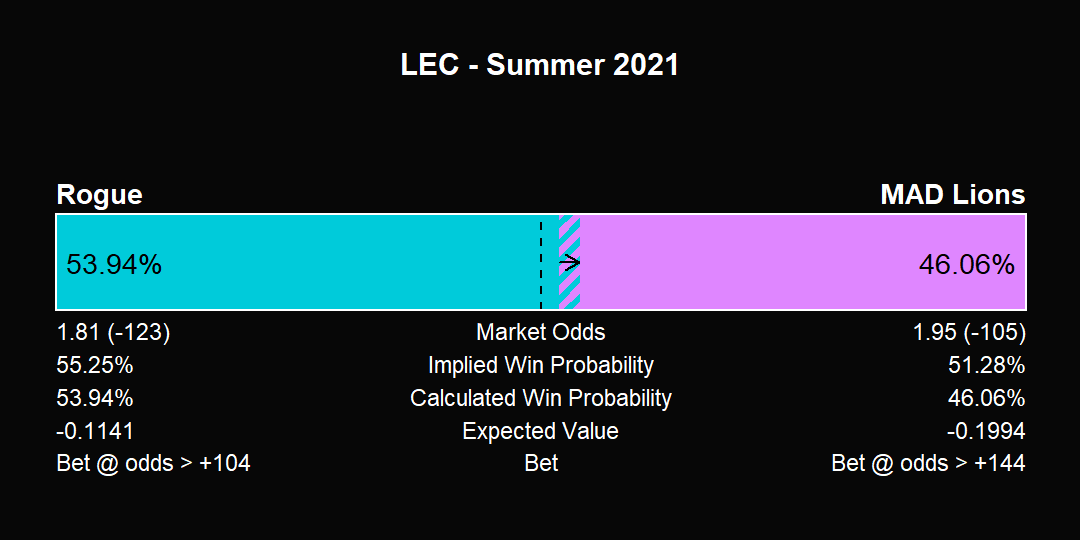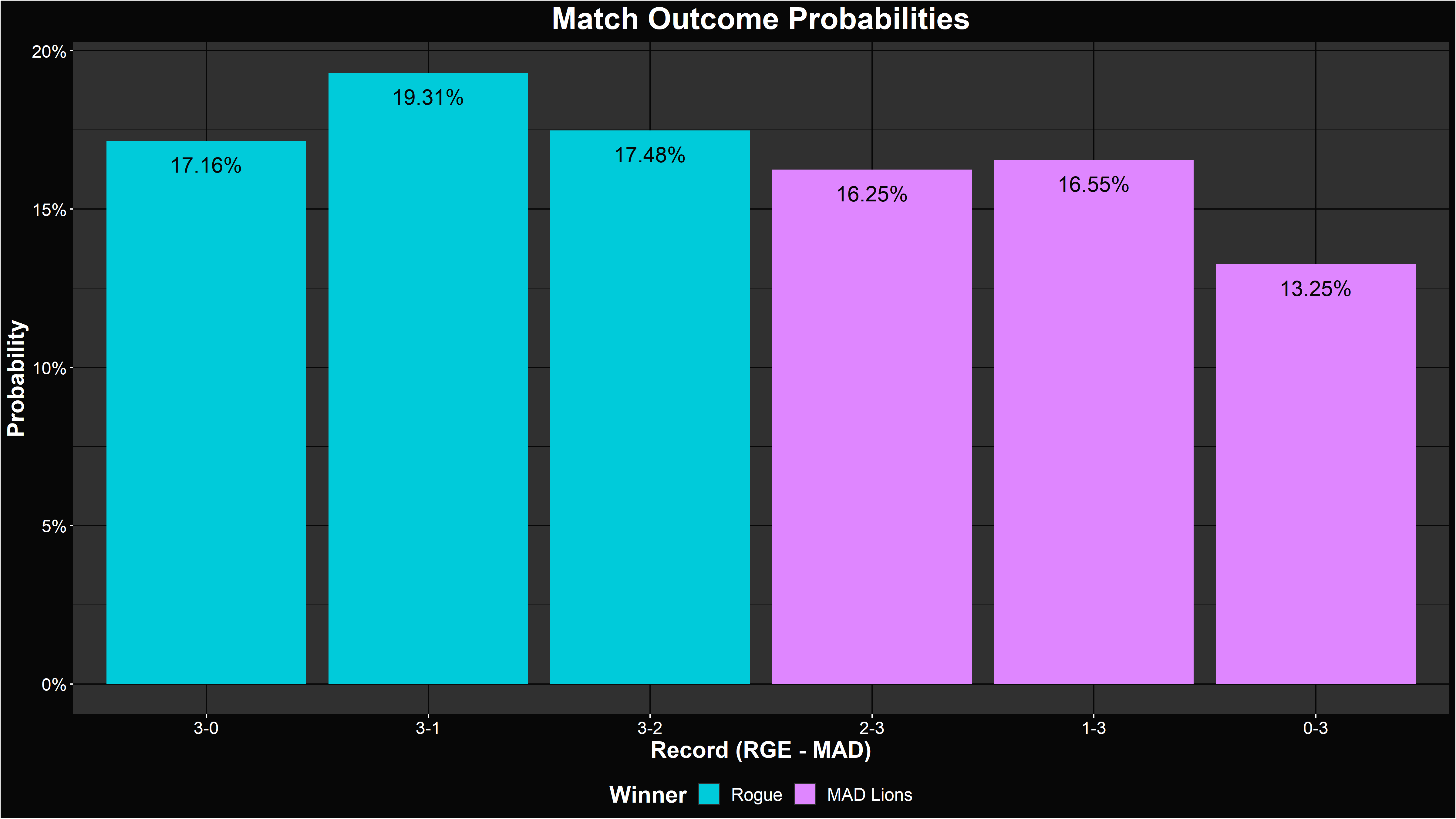 We're almost exactly in agreement with the market here: Rogue is very slightly favored against MAD Lions. No betting value, but should be a fantastic match to watch. Winner goes to the finals, while loser is still guaranteed at least 3rd place (if they lose in the lower bracket semifinal) and qualification to the Worlds Play-In, and could come back up to the final and repeat this matchup.
---
LPL
08/19: LNG Esports v Royal Never Give Up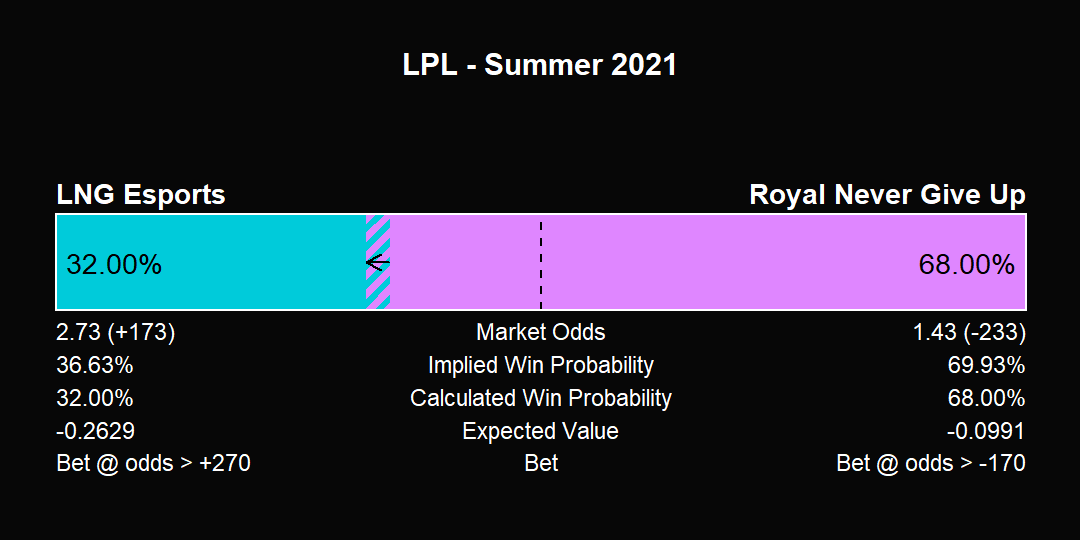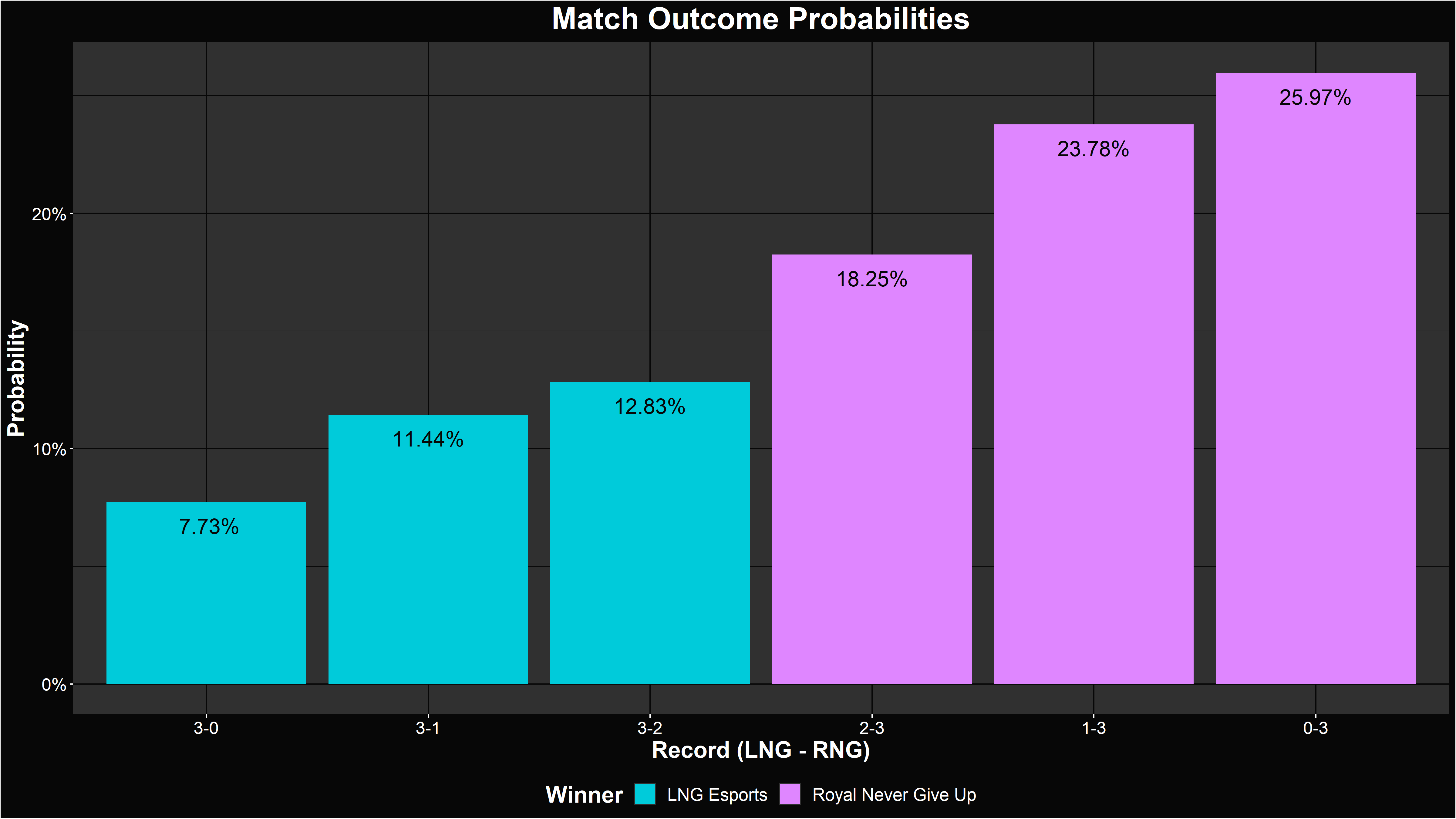 LNG's got a tough one here; about a 2/3 chance to lose and drop out in 5th-6th place, both by our estimation and the market's. The winner will go on to face FunPlus Phoenix, which is a scary prospect as FPX is the #1 seed going into the tournament. On the other hand, though, that'll finally be in the double-elim portion of the bracket so a loss isn't necessarily the end.
08/20: Team WE v Rare Atom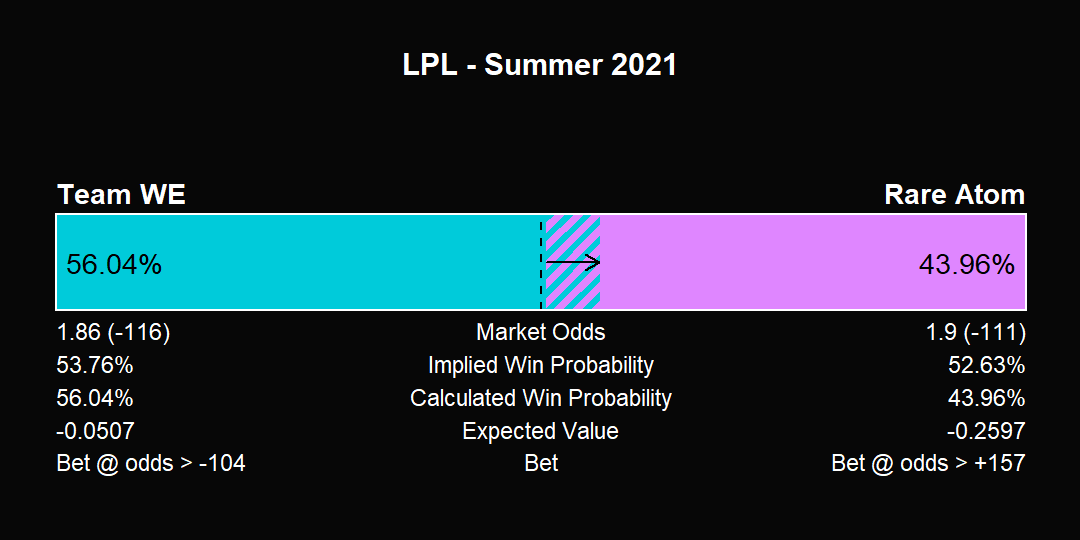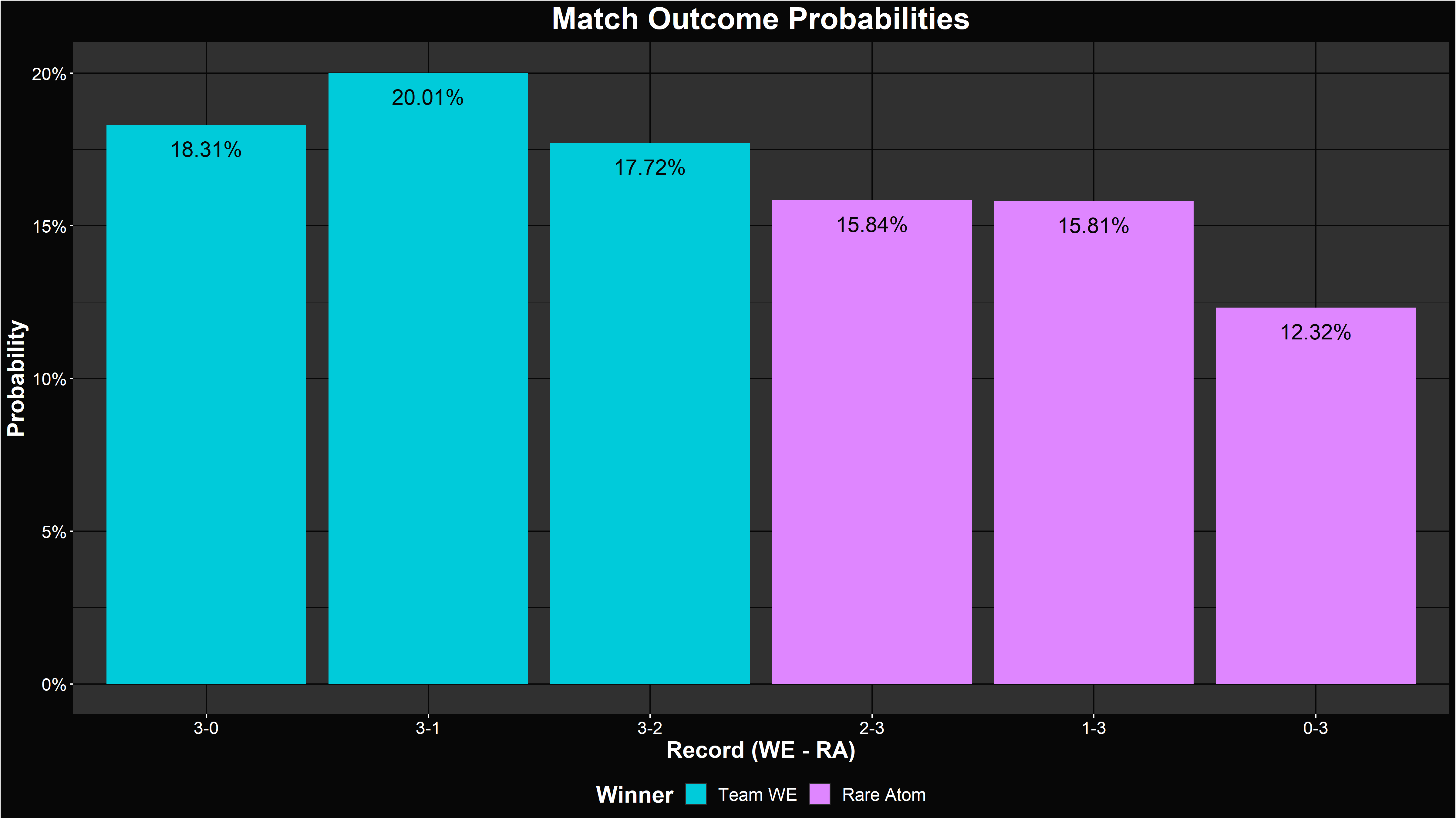 Another close matchup. Market has the two teams almost exactly even, while we think Team WE has a slight edge. Not enough to justify a bet, but the odds are close to making it worthwhile, so keep an eye on the markets! As in the above match, loser here splits 5th-6th place. The winner will face the #2 seed, EDward Gaming, but again can breathe a sigh of relief as they've made it to the double-elim bracket.
---
LCK
08/18: Nongshim Red Force v Afreeca Freecs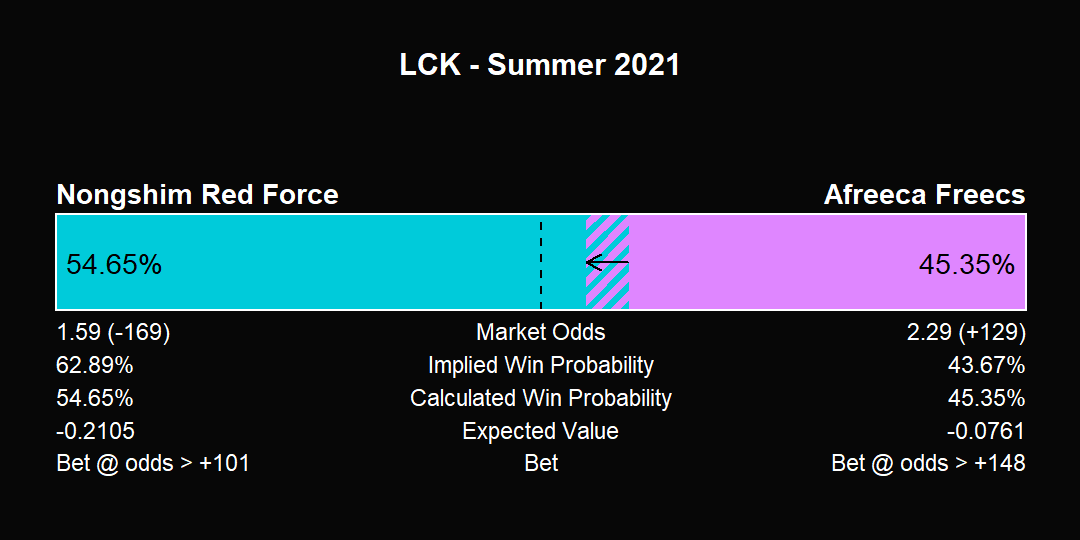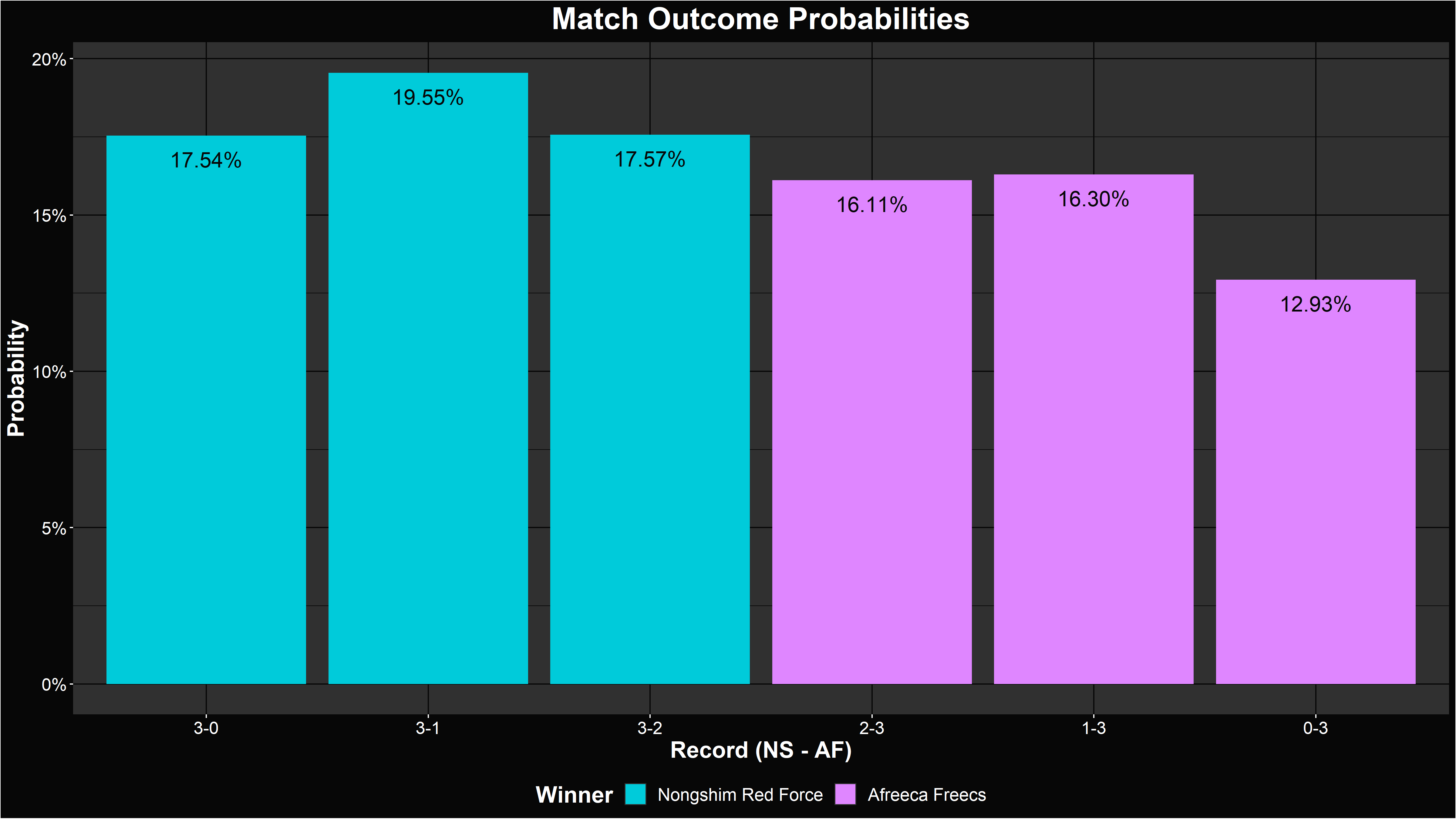 In the first match of the LCK Summer 2021 Playoffs, We've got NS slightly favored against AF. We think the matchup's slightly more even than the market does, but the odds just aren't paying out enough on Afreeca Freecs to justify a bet, given the (as always) harsh vig. The loser here will take 5th or 6th place, depending on their seed relative to the loser of the other first-round match (so guaranteed 5th for NS and 6th for AF). The winner will face either DWK KIA or Gen.G, depending on which round 1 team DK would prefer to face (our guess is that it'll be the lower seed between the two round-1 winners, so DK will face AF if they win, but will let Gen.G meet NS).
08/19: T1 v Liiv SANDBOX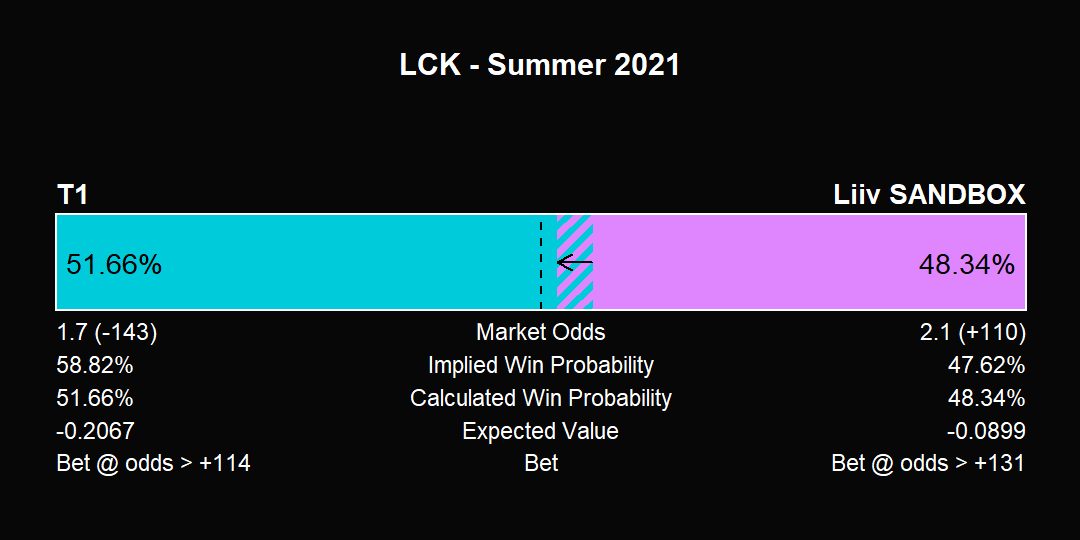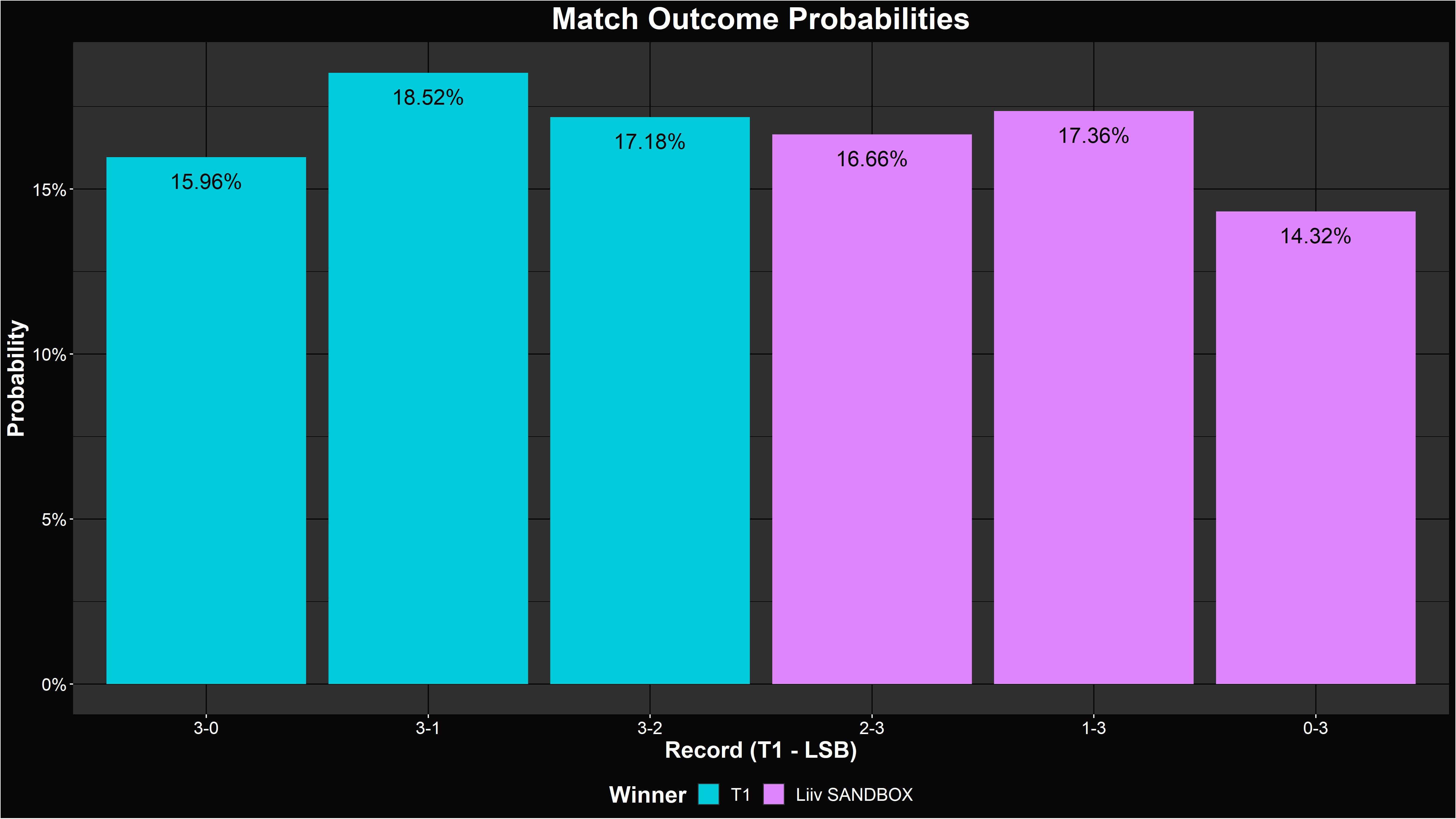 Another very close match (and again, we think it's slightly more even than the market does). This truly is the week of coinflip matches! The vig still takes the value out of this one, which is unfortunately fairly typical. This matchup is symmetrical to the above one: the loser takes 5th or 6th, depending on their seed relative to the loser of NS v AF (so guaranteed 5th if AF loses above, and 6th if NS loses above). The winner faces DWG KIA or Gen.G as outlined above - so again, almost certainly determined by the outcome of the other round 1 match.
---
For more in-depth match analysis, discussion, and predictions, as well as quantitative betting strategy tips, subscribe to stay in the loop! You can also follow us on Twitter or Facebook for quick prediction snapshots of upcoming matches. Alacrity is your fastest path from simply gambling to beating the market. Stay ahead of the game!