2021 Summer Playoffs Roundup - Sunday 8/29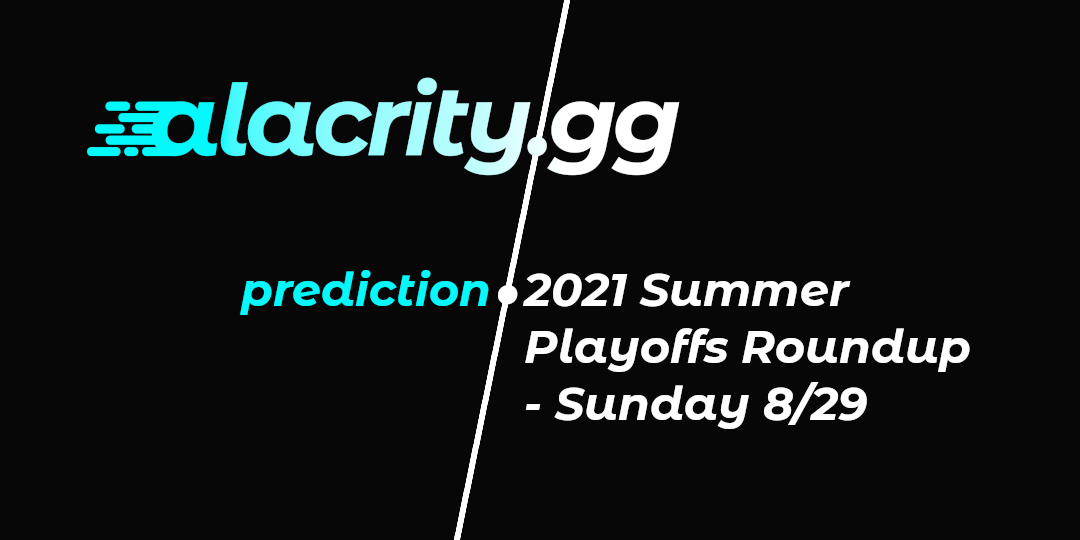 As weekend games continue across the LCS, LEC, LCK, and LPL playoffs, a few matches are being finalized for this Sunday. We'll keep this page up to date as those get determined, so check back! (all games should be determined by Saturday evening)
---
LPL
Team WE v EDward Gaming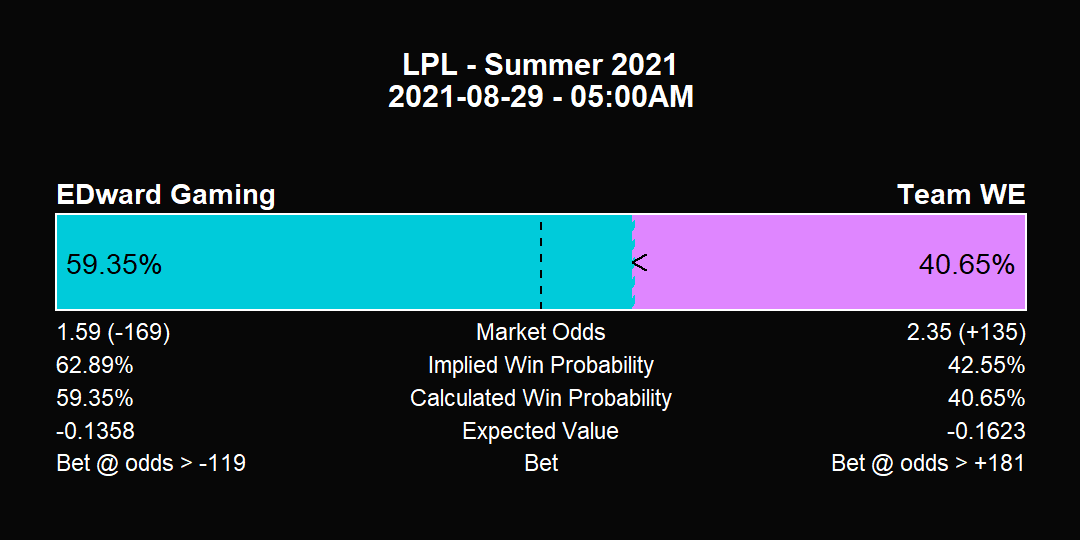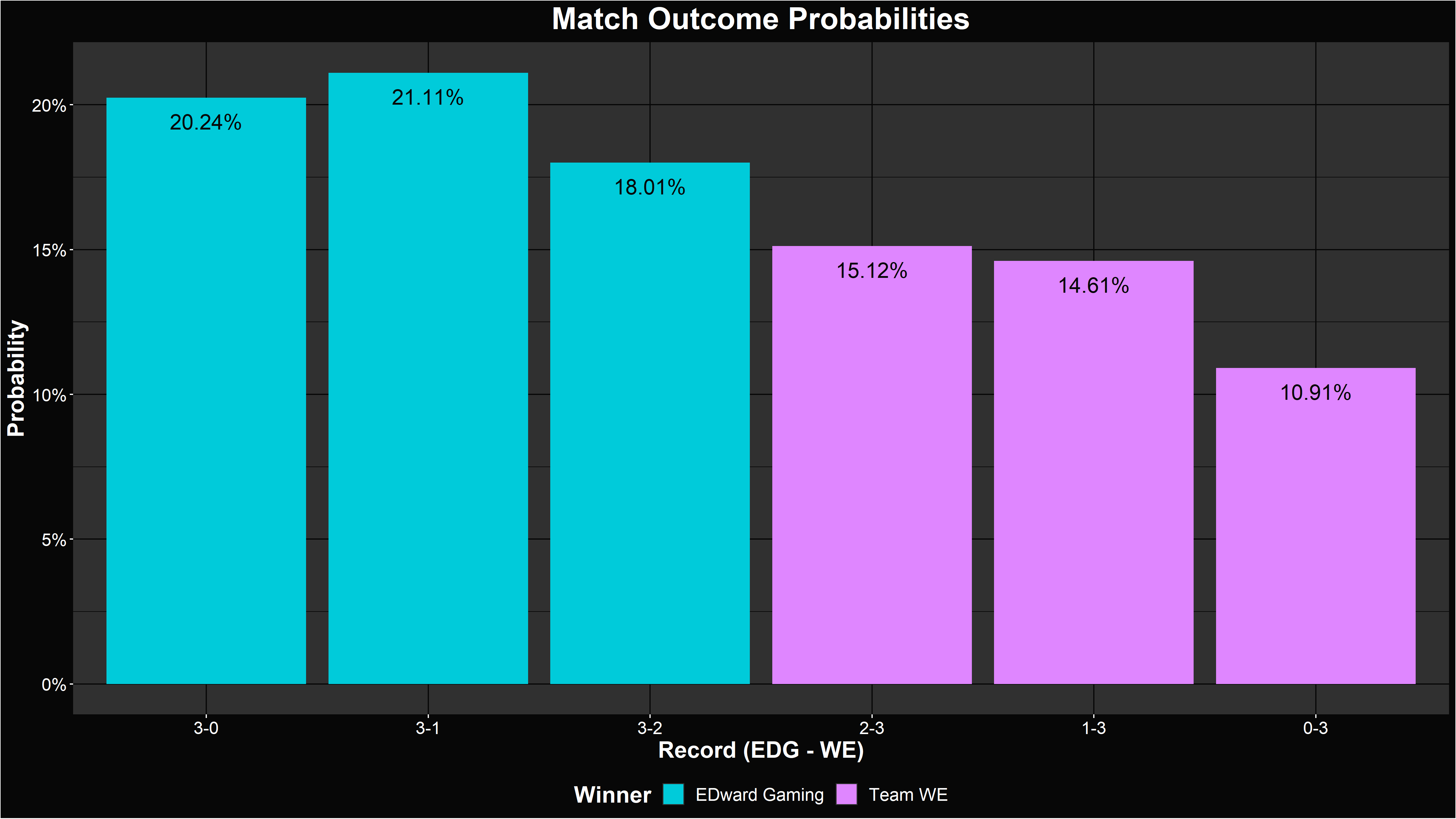 A Team WE upset over FunPlus Phoenix would've been exciting, but it wasn't in the cards, and FPX took a very commanding 3-0 W. WE now faces off against EDG, whom they had pushed into the lower bracket a week ago. While a repeat victory is certainly possible, we still think that Team WE is the weaker team. We're almost exactly in agreement with the market on their odds, at just about 40/60, so no betting value here unfortunately.
This is a pretty high-stakes game for Team WE: they can't actually get enough Championship Points for a Worlds invite; even if they take 2nd place for 110 points, their 120 total would still put them below EDG's 130 in 3rd place. They're guaranteed enough points to compete in the regional finals, but their only way to directly qualify right now is to win the playoffs. If they don't, then FPX/EDG take the two qualification spots no matter what (though in slightly different order); if they do win, then EDG will be bumped to the regional finals. FPX is sitting on a Worlds spot either way.
---
LEC
MAD Lions v Fnatic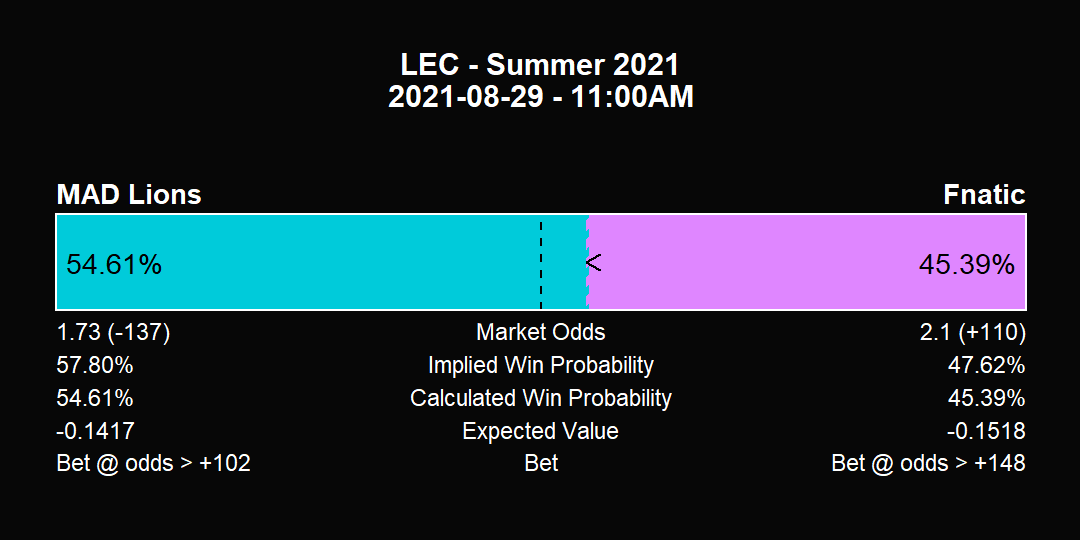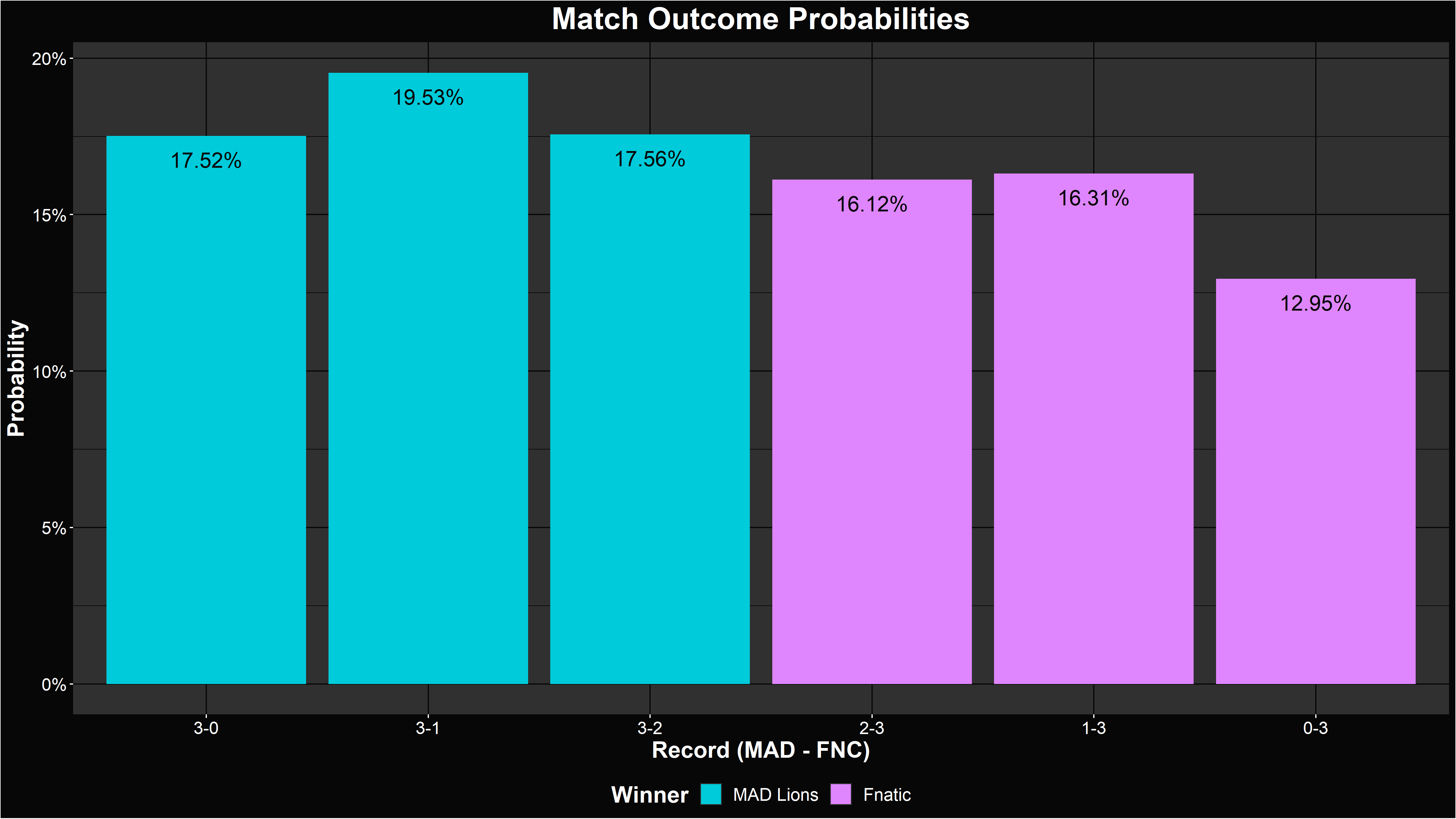 The odds market had put Rogue v Fnatic at almost exactly even, but hey, sometimes you win three coin flips in a row. Coming off of a 3-0 victory, Fnatic now meets MAD Lions in the LEC Playoffs final. Once again, our prediction is fractions of a percent off of the probabilities implied by the odds market: MAD Lions should have a 55/45 advantage over Fnatic. There's no value to be found in betting here, but the actual match should be full of excitement anyway.
Both of these teams are guaranteed a Worlds Main Event invite, so they're fighting purely over seed. A good start on the international stage can make or break a championship run though, so neither team is going to hold back here.
---
LCS
Team Liquid v 100 Thieves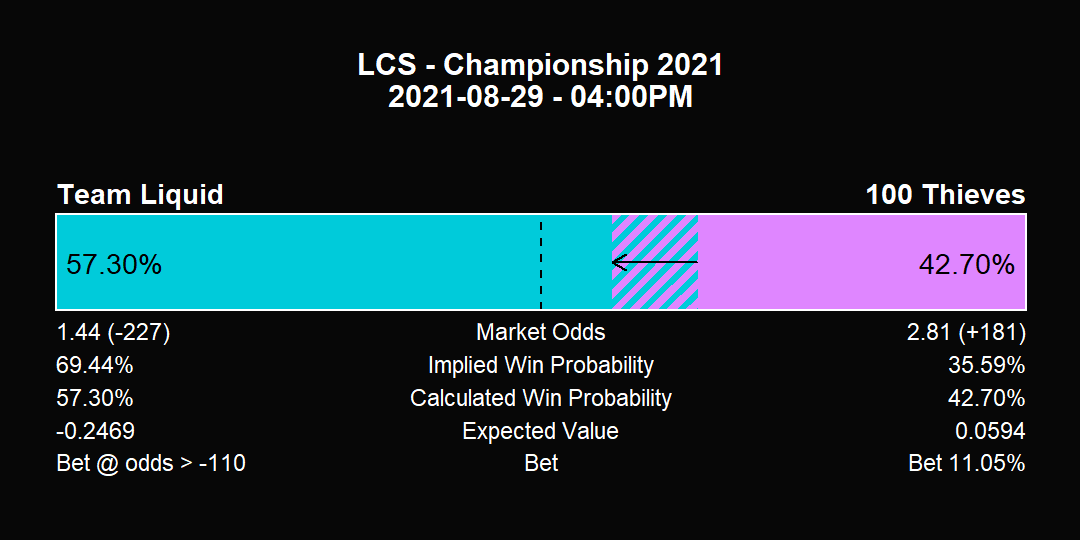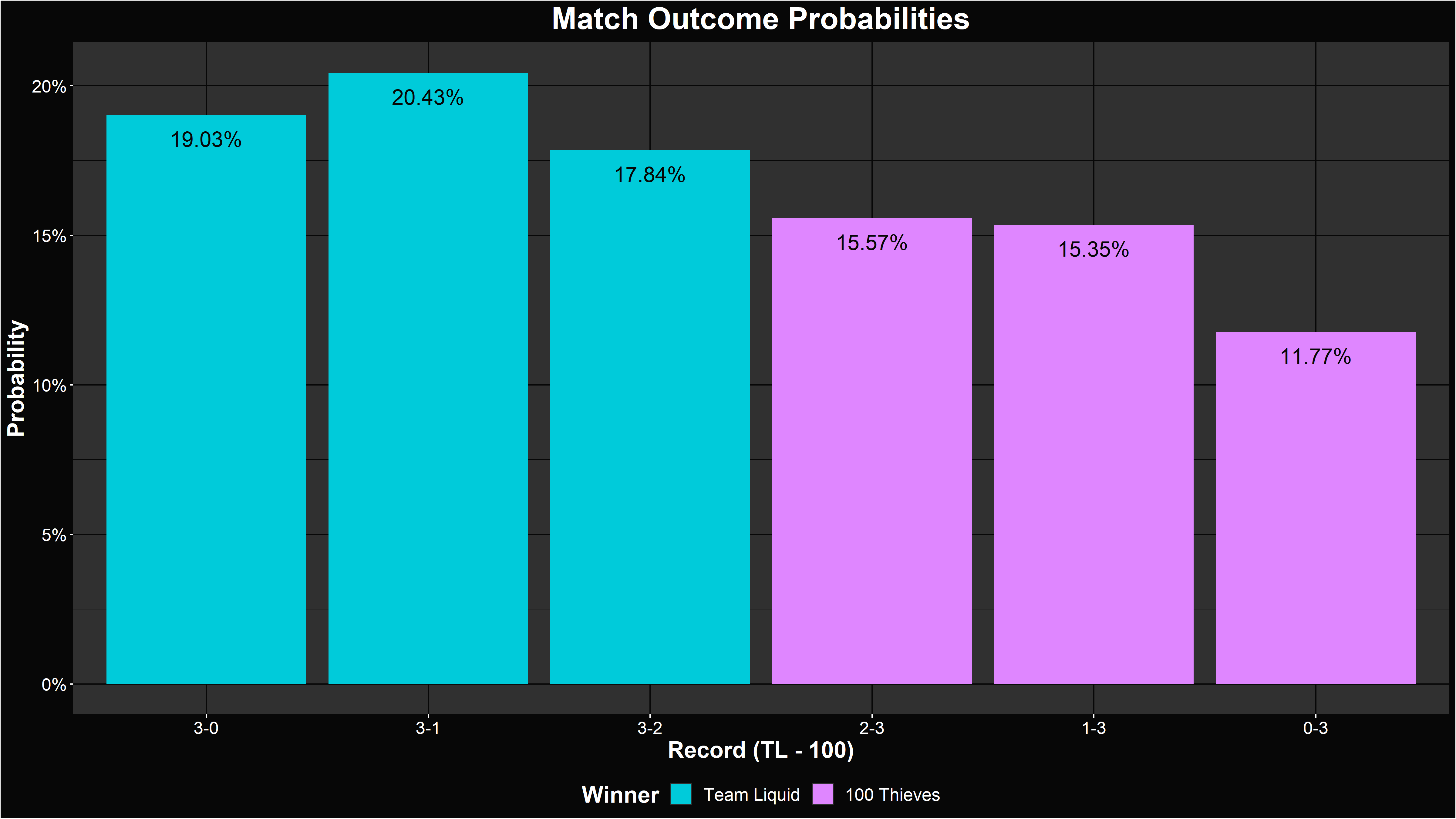 Coming in hot after a 3-1 win against Cloud9, 100 Thieves get a second shot to bring down Team Liquid. They'd been bumped down into the lower bracket semifinals by TL last week in a narrow 2-3 loss, but our model thinks they have a very realistic chance at redemption. They're still slightly outclassed, but 43/57 is a much closer possibility than the 34/66 that the odds market believes. Given that 100 Thieves is an underdog, we would suggest a fairly modest 11% unit bet size stake.
These teams have both secured a Worlds Main Event invite, but a stronger starting seed can make a large difference.
---
For more in-depth match analysis, discussion, and predictions, as well as quantitative betting strategy tips, subscribe to stay in the loop! You can also follow us on Twitter or Facebook for quick prediction snapshots of upcoming matches. Alacrity is your fastest path from simply gambling to beating the market. Stay ahead of the game!